The dark skin tone is not meant to hide but highlight its beauty. Don't be embarrassed about it as you need to do just a little and there you go to rock the stage. How you can work upon your skin and highlight its natural beauty is what is given in the article. Do go through it and do not hesitate to experiment with it.
5 Amazing Methods To Choose The Right Makeup For The Dark Skin Tone:
1. Foundation Or The Dark Skin Tone
When you continuously work upon your skin undertone, you will know which foundation will suit you. In case, you are testing foundation at a beauty counter then you should start by experimenting the color from your cheeks to the jawline, keeping your body tone in mind. It normally happens that the face color is typically lighter than the overall body color, therefore you should choose the foundation that matches the body color. To ensure that you choose the right color, do test two to three shades and wait till they warm up. Then only pick the one that looks most natural.
2. Choose The Blush Rightly
Blush adds an extra glow to the beauty. With dark skin tone, forget using the pale pinks and bright shades. These shades hardly suits the skin tone but the right ones are mauve shades, cranberry color or the bright orange. The bold colors look dazzling but unfortunately these are not made for your beauty. These colors may look subtle as per your complexion. You can also go for the bright fuchsia if you have darker skin with warmer undertone while tangerine will suit the cooler undertone.
3. The Best Bronzer For You
If you have dark skin tone then do not let anyone tell you that you shouldn't pick bronzer. The sun kissed glow never fails to rock for any skin type. You should look for a product that highlights your natural skin and enhances the skin tone at the same time. Go for a shimmery finish and apply it on your upper cheekbones, temples and forehead to get an instant warmer undertones.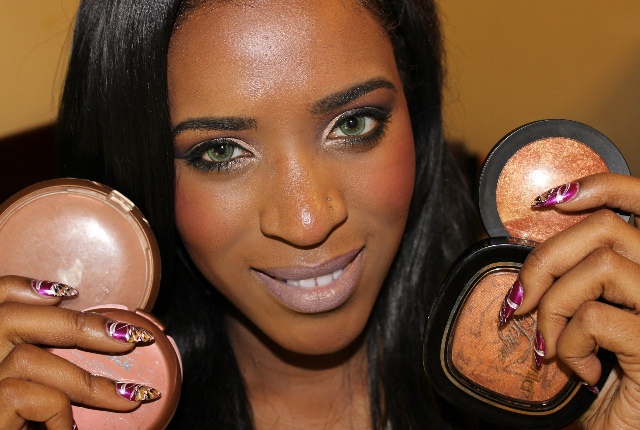 4. Choose Your Lipstick Carefully
Similar to the bright blush colors, you can have fun choosing the lipstick shades as well. For fresh and spring like lips, go for glossy pink or the violet color. If you give your lips a bold matte finish, then you can make your pout stand out while the berry hues can give your complexion a warm up appearance. If you have warmer undertone, you can select orange as it never fails to make your look & lips both stunning. Orange red and even chocolate shades are also not so bad to choose. Ladies with the cooler complexion must pick the purple, reds, pink or blue undertones. You can also experiment lots of colors and choose the ones giving your lips the best look.
5. Eye Shadow Shades
The rich shades like bright blue, deep burgundy or emerald green stand out against the dark complexion while bronze tones and the gold warm up the skin tones and highlight and brighten up the eyes. Stay away from the pale and frosty and off white shades as these can give your face and precisely eyes a dry, dull and ashy appearance. For the shadow finish, go for the demi-matte or the soft shimmer and deep neutrals like chocolate or nude colors for the matte finish.
Caution: Please use Home Remedies after Proper Research and Guidance. You accept that you are following any advice at your own risk and will properly research or consult healthcare professional.