Tooth decay and cavities are some of the most common oral health problems that all of us have faced at some point in our lives and the pain can be really excruciating .The only option that we can think of in order to get rid of these oral issues is a visit to the dentist. But have you ever imagined that a waste product can actually come handy in healing dental cavities .Don't be surprised there is one such ingredient readily available in the kitchen and that is egg shells which we so easily throw away in the garbage bin.
Egg shells are good sources of calcium.They also contain 27 minerals. They contain some of the most important amino acids like cysteine, isoleucine and lysine. This is bio available resource of calcium and the superlative part is that the calcium is easily absorbed. The calcium and minerals  prevent cavities and also help maintain healthy enamel. They also help in the prevention of buildup of plaque. Since the chemical composition of eggshells and teeth is almost the same, eggshells help remineralize the teeth and help in healing cavities.
Forms In Which Eggshells Can Be Used To Cure Dental Cavities:
Egg shells can be used for dental care internally in the form of a eggshell tonic which needs to be consumed daily or externally in the form of a homemade toothpaste or tooth powder which is much safer than the chemically laden commercial toothpastes and tooth powders.
Procedure To Make Eggshell Tonic:
Take egg shells and boil them in water for 10 minutes. Boiling thoroughly is important in order to eliminate the micro organisms and sterilize the shells. Airs dry the shells and grind them to a fine powder. Add a little of this powder daily to fruit juices or soups and have it daily as a tonic. This tonic helps prevent dental cavities.
Procedure To Make Eggshell Toothpaste:
Ingredients:
Egg shells,2 tablespoons of coconut oil,1 tablespoon of baking soda, one tablespoon of sea salt (it has antiseptic properties),few drops of food grade peppermint oil which acts as mouth freshener.
Procedure:
Boil the egg shells in water for 10 minutes to get rid of bacteria. Air dry and grind the egg shells to a powder. Take one fourth cup of the egg shell powder. Add the baking soda and sea salt and mix well. Now add the coconut oil and mix well till you get a smooth consistency. Please note that you may need little more than two tablespoons of coconut oil to get the desired consistency. Add the peppermint oil and blend well. The tooth paste is ready .Store it in an air tight container. You may also use olive oil based soap called castile soap as an optional ingredient in order to get a more smooth consistency.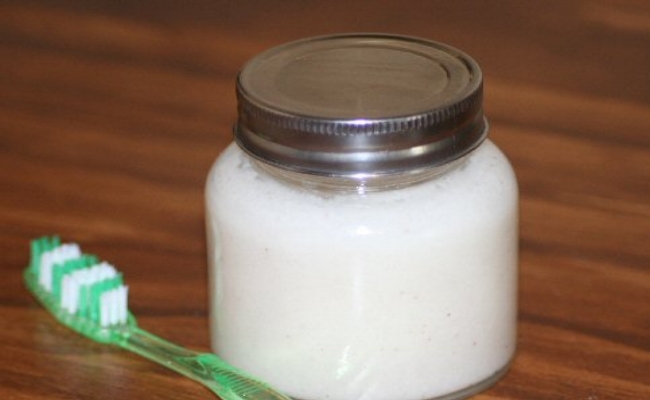 Procedure To Make Egg Shell Tooth Powder:
Ingredients:
Egg shells, one tablespoon of sea salt and one or two cloves (Cloves are very good for dental care)
Procedure:
Boil the egg shells in water for 10 minutes to eliminate the pathogens. Air dry and grind the egg shells to a fine powder. Grind the cloves to a fine powder. Take 2 tablespoons of egg shell powder in a vessel. To it add the sea salt and clove powder and mix well .Your tooth powder is ready.
Make it a point to consume the egg shell tonic and brush your teeth with the egg shell toothpaste or the egg shell tooth powder daily in order to heal the cavities and keep the teeth strong and healthy.
Caution: Please use Home Remedies after Proper Research and Guidance. You accept that you are following any advice at your own risk and will properly research or consult healthcare professional.