Struggling to find the right foundation shade according to your skin tone only to end up with another wrong shade? Well, you are not the only one. Most women struggle with the same issue. The foundation is either too dark or too light. Some of us end up giving up on using foundations, while some others simply throw the old foundation and buy a new one. There is still no guarantee that the new shade would be a true match. To resolve this grave makeup disaster, we bring forth our list of 8 amazing beauty hacks that will help you fix your lighter foundation to make it your perfect match.
1. Use A Bronzer
Ideally a bronzer is used for face contouring. It highlights certain areas to give your face a fake 3D thinner look. It is also used to enhance your complexion and make you look fairer and brighter. However, another priceless use of a bronzer is, it can fix your light foundation and make it your ideal shade. Just mix a non shimmering bronzer with your foundation (you can also use a glittering one, if you like shimmers). The bronzer will easily blend with all foundation types- liquid, gel and powder. Mix as much as needed to get the color closest to your skin. This tip though works best when you apply the foundation cum bronzer from the center around the t zone. These are the areas that need more coverage than the rest of the face, because they have large pores and extra oil.
2. Mix With Other Foundations
Ideally, it is not easy to find a perfect match foundation in reality. An ideal shade is mostly achieved by mixing two to three foundations. In your case, mix a darker shade foundation with your foundation to make your perfect match. It is an ideal option if you have water based, gel based or powder based foundations. However, if you have a stick foundation, you can scoop a little of it from the stick and mix it with a darker shade liquid foundation. Never use your fingers in this case. Always use a brush for matte finish. This fixes the color of your foundation so well that it camouflages to your real complexion.
3. Use A Compact
Using a compact to set the foundation is a very normal makeup step. However, if your foundation is too light for your skin, top it up with a darker compact. You can use a loose powder as well. You can mix a darker loose powder with your liquid foundation and blend the two together. You can also directly apply the compact over your foundation. Remember to use a brush, and use it downward when you are trying to fix a lighter foundation to match your complexion. Using the brush downward will conceal your blackheads and whiteheads instead of revealing them.
4. Use A Dark Concealer
This beauty hack comes straight from the heart of beauty artists who give you a celebrity like flawless look. Ever wondered how do they always get an ideal shade to cover your blemishes? Well, they blend a concealer and foundation to make a desired shade for your complexion. So, now you know that you can mix a darker concealer with your light foundation to fix it. You can still use the concealer as a base. But that might not get you the desired result. Instead, either blend the concealer and foundation before applying. Or put a darker concealer on top of your light foundation with a brush, and top it up with a compact powder.
5. Blend It With A Tinted Moisturizer Or Sunscreen
Well, if your foundation is not really very light compared to what your complexion is, this idea might just work well for you. Mix a tinted moisturizer or sunscreen with your foundation to make it a little darker. However, if it is still too light for you, do not apply the foundation on your entire face. Apply the moisturizer and foundation blend only on your cheek bones, cupid's bow, t zone and under your brows. Then take a brush and fill your entire face with a darker compact powder. In this manner, your foundation will work as your highlighter and illuminator to brighten your face naturally. Do not forget to apply this highlighting blend on your neck to get a natural finish.
6. Use A Blush
You can even use a blush to fix your light foundation. However, this tip is not really for beginners. Apply a slightly darker concealer on your t zone. Cover it up with a layer of your light foundation. Smudge the two well with the help of a brush mildly to get a finish as close to natural as possible. Use a blush according to your skin tone. For example, highly pigmented deep orange for dark skin and rose pink for fair skin. Apply the blush on your entire face. Keep it the darkest on your t zone. The rest should be lighter. And it should be somewhere in between light and dark on the cheek bones. Apply a thin layer of darker loose powder on top of it. This should fix your problem and blend your light foundation well with your skin.
7. Use A Color Corrector
A color corrector is used to remove patches from your skin making the complexion even. You can use a color corrector on top of your lighter foundation. In fact, there are few correctors that are especially fabricated to complement foundations. They go by the name foundation mixers. You can find a darker shade and top it up over your foundation. Blend them well and always stroke downward in case you are fixing a light foundation. This is because, downward strokes do not highlight the pores. And the makeup looks natural. So, a color corrector is your best deal to make your light foundation your ideal true shade.
8. Use It With A Wet Sponge In Winters
This most underrated tip to fix your light foundation is a show stealer. The skin tends to become lighter in winters. It is darker in summers due to tanning. Your light foundation might come a step closer to your complexion in winters. Apply it on your cheekbones, t zone and cupid bow and smudge it well. If you feel it still doesn't go well with your skin and looks awkward, apply a darker compact powder on a wet sponge. Stroke the sponge gently over the foundation downward. Wet sponge, instead of dry, will remove just optimum whiteness from your skin. And will add true color to your skin, without smudging.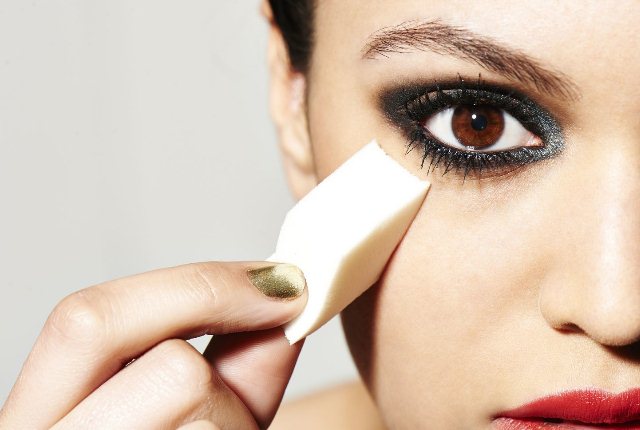 These 8 beauty hacks should ideally fix your light foundation so well that it looks natural on the skin. They will certainly help you wear your foundation without discarding it, and dumping more bucks to find another blunder shade.
Caution: Please use Home Remedies after Proper Research and Guidance. You accept that you are following any advice at your own risk and will properly research or consult healthcare professional.