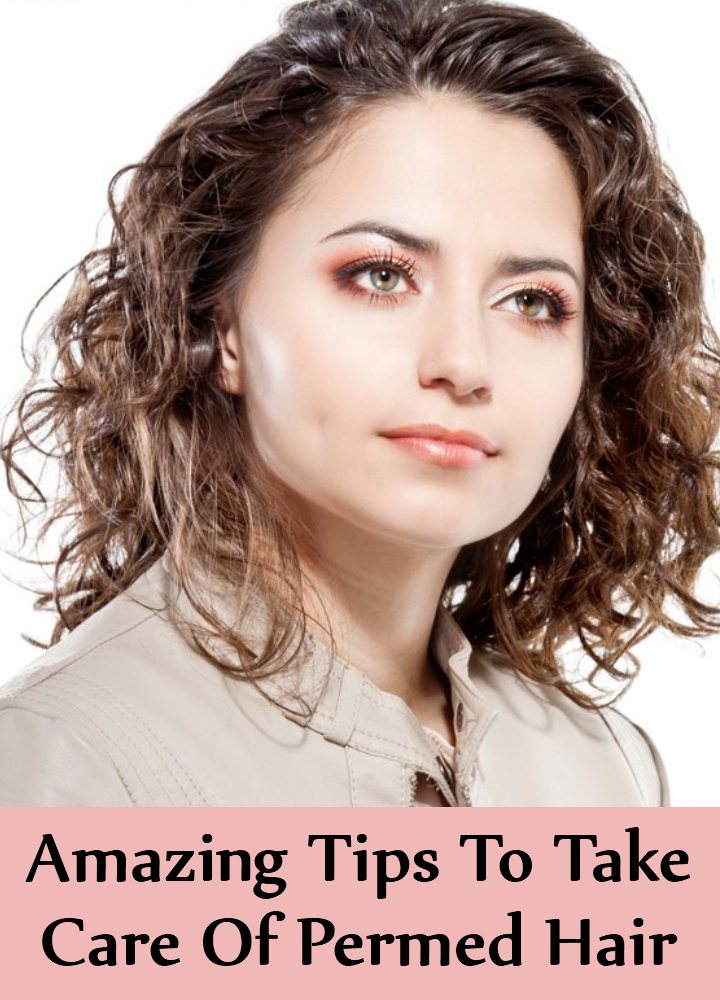 Perming is an art to offer beautiful curls and waves to hair. The waves look gorgeous and can transform your look entirely. But perming uses a hell lot of chemicals to break the natural bond of hair. Such hair are too fragile and are prone to permanent damage if not taken care of. Thus, we bring forth our list of 8 effective ways to pamper your permed hair without damaging them.
1. Let Them Rest
Hair are traumatized after having dealt with so many chemicals. Moreover, broken natural bond makes them more fragile. The best way to start is to leave them undisturbed. Do not roll your fingers in those fresh curls. They can tangle very quickly and break. Do not tie them. Do not even rinse them with water for 3 to 4 days. Let the chemical seep within the strands without causing any damage.
2. Save Them From Sun
The best way to save your permed hair from sun damage in not stepping out in the sun at all. Freshly permed hair are prone to sun damage, since they do not have the protecting natural bond anymore. Do not step out in the sun at least for 2 days after perming. Cover your hair with a dust proof silk scarf and further use an umbrella when you step out in the sun after perming.
3. Do Not Use Hot Water
First of all, do not wash them at all for almost a week after perming. We all know that using hot water damages our hair by making them dry. Permed hair, lacking natural keratin, are prone to heat damage. Do not wash them with hot or lukewarm water at all. Use only cold water. Do not scratch your scalp while washing your hair. Lather them very gently. Do not roll your head upside down. Wash your hair while holding them behind your back. This will protect the hair from tangling and will reduce the chances of breakage and unnecessary hair fall. The lesser the spilt ends, the better will the texture be. Do not rub them hard with a towel. Do not even wrap them in it. Let them dry naturally.
4. Use Prescribed Products Only
Permed hair aren't normal. They need extra protection and pampering. Using a normal shampoo will do no good. It will instead increase the chances of damage. Use only specific hair care products manufactured for permed hair. It is best to use herbal shampoos for permed hair that are rich in nourishing vitamins and minerals, completely devoid of harsh chemicals. Your shampoo should be rich in keratin, so that your hair start becoming stronger. It will reduce tangling and breakage. Do not ever forget to use a conditioner and a serum after shampooing permed hair. Simply shampooing will dry your hair and it can lead to hair fall. It can also make your hair dull and coarse. In fact, it is very necessary to wash them at least three times a week. Scalp collects dust that leads to sebum and oil formation. If not removed, it can disbalance the pH level of scalp that can cause hair fall.
5. Do Not Colour Them
By saying this, we do not mean don't ever colour your hair post perming. What we mean is, do not colour them at least for a month. The less you colour them anyway, the longer they will stay in shape. Colours are loaded with a lot of chemicals. And permed hair are best maintained when groomed with nourishing oils, and not chemicals. After a gap of a month or so, you can go for hair colouring. But do not go for cheap brands. Use hair colours that are nourishing and conditioning. Take regular hair spa to maintain the hair texture. Don't use sprays to let your colour last longer. It will dry the hair and will lead to a lot of knots, dryness and split ends. It is in fact very necessary to trim your hair regularly after perming. Unkempt permed hair lead to a shabby look.
6. Do Not Use Dryers And Straightening Irons
Straightening irons will damage your waves, since they are not real curls. Do not straighten them in the first hand if you had to get them curled. Heat will not just make your hair dry and break open your precious curls, it will also result in hair breakage. Permed hair are so delicate that it is not even advised to use normal combs for them. Instead hair brush is used to brush them properly. Wonder what heating and straightening would do to them! Do not use a blow dryer to dry them on daily basis. Heat will take a toll on them and damage their texture. It will be harder to take care or curly damaged hair than anything else.
7. Go For Touch Ups Without Failing
We all know that hair have periodic cycle to grow and fall. Every falling hair is replaced by new hair. And the new hair will always be natural, not permed. So, just like you need to go for periodic facials to take care of your skin, similarly it is necessary to go for touch ups to take care of permed hair. Curls can last for about 9 months when taken care of properly. If you miss your touch up, the curls will open, but the waves will not. Your hair will look thinner and will leave open patches on your scalp. Such unkempt hair will look damaged, dull and lifeless. If you want to keep your curls lustrous, do for touchups to maintain them. In fact, the ideal option is to get your roots permed in every 4 months. This will maintain your hair volume and will keep them healthy.
8. Massage Them With Therapeutic Oils
Healthy scalp results in healthy hair. You can use various therapeutic oils to massage your scalp and hair thrice a week. You can use coconut oil or almond oil or a blend of both for a gentle massage. Do not rub your hair harshly. Be very gently. It will increase the blood circulation and oxygen level in the scalp. The scalp will thus be devoid of extra oil, sebum, dandruff, inflammation and infection. The oils will also seep within the locks and add glow to them. Such oils will maintain the pH level of your scalp to neutral. This will keep the hair damage free and nourished automatically. Wash them with your specific shampoo the next day. If you go for branded oils, make sure they are devoid of artificial fragrance and alcohol.
All these above listed 8 tips to take care of permed hair are very effective. They are not just some hacks for freshly permed hair, they are equally beneficial to maintain the quality and texture of your curls for as long as you continue to re-perm them again and again.
Caution: Please use Home Remedies after Proper Research and Guidance. You accept that you are following any advice at your own risk and will properly research or consult healthcare professional.