Maintaining a beauty regime can be a real intimidating task many times. The regime has to be strictly maintained and the trips to the spa should happen monotonously without any break. Only if this has been so easier! The truth is our days and schedule are unforgiving and we cannot be faulted if we give these regimes a miss. However, it's our skin and face that takes the toll. But fret not, as help is always at hand. We give out simple homemade facial packs using ingredients that we deem as less important. Let us have at one such recipe using banana peels. Yes, you heard it right. It is banana peels!
Bananas are one of the common fruits found across the world. In many cultures banana is had as a part of a staple diet and many people do have it for breakfast. It has an interesting mix of essential nutrients and it can be had safely almost by anyone. We throw away the peel in many cases but the reality is a bit different. Banana peels are a stock house of Vitamins, magnesium, and potassium. It is also rich in antioxidant and enzymatic properties. We can in all fairness give it a shot in our beauty care. To use them, first take a banana peel and use a spoon to scoop out the white contents that look like fiber at the backside. Make sure that you take the scoop of a recently peeled fruit. Peels which have been unused for a long time can turn black and can be ineffective. Here are a few facial masks that can be done using them.
Here Are The 5 Homemade Banana Peel Face Packs You Should Try:
1. Banana Peel And Almond Face Pack
Almonds have enormous quantities of Vitamin E. When mixed with the banana peels, they can simply take the facial experience to the next level. Soak some almonds in a bowl of water and leave them for a few hours. Best – leave them overnight. Next, drain the water out and mash them to get a thick paste. Now scoop out one or two banana peel layers as stated above and mix it with the mashed up almonds. Add a few drops of olive oil to make it as a consistent paste. Apply this on your face covering every inch using your fingers and relax for some 30 minutes. Rinse off later with cold water to get a ravishing skin.
2. Banana Peel And Yoghurt Pack
Loss of time? No time for a regular face mask? Try this simple and trouble-free face mask that is extremely easy to make. It involves yogurt and tons have been written about how beneficial they are for your skin. Simply, scoop out the banana peel layer and mix to some fresh yogurt or curd. Use the proportions of the curd as per the banana peel layers you are getting. You do not want them to get too watery. Add in a dash of honey to the mix and mix well. Layer it on your face and relax for about 20 minutes. Rinse well later.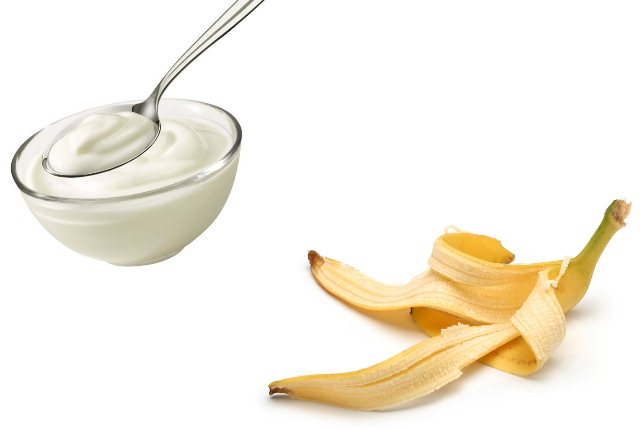 3. Banana Peel And Lemon Pack
Lemons are good bleachers and if you do have an oily skin type then give this face mask a shot without any second thought. Take out the banana peel layers and mix it with a tablespoon of fresh lemon juice. Add a few drops of raw honey to the mix and whip well. Apply this face pack copiously on your face and let them grip for some half an hour. Later rinse off well with cold water.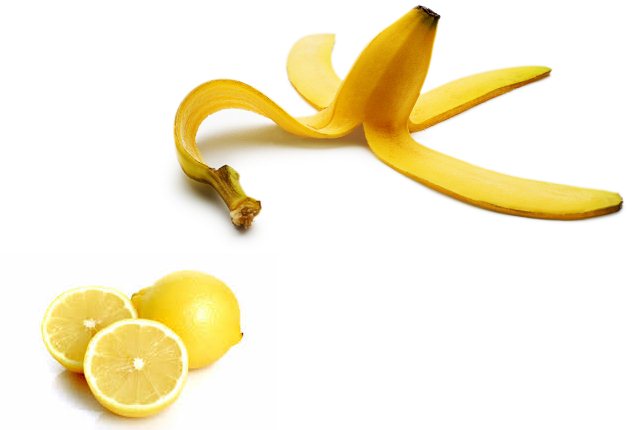 4. Banana Peel And Egg Pack
Can we leave out an egg when we are talking about a ravishing face mask? Here it is. You can safely combine egg yolk and banana peel for getting that incredible look you have always desired. Scoop out the fiber from the banana peels. Now take an egg white and mix it to the scooped out peels. The mask will be undoubtedly sticky. Hence to overcome this, add in a few drops of olive oil to the mix and mix well. Apply it generously on your face covering every space. After it turns hard on your face, rinse it off with cool water.
5. Banana Peel And Kiwi Pack
Kiwi can be used on the skin irrespective of their types and is immensely popular. Combined with a banana they can act as one of the best cleansing product. Scoop out the banana peel layers and mix it with a few drops of coconut oil or almond oil. Now scoop out the flesh of a kiwi fruit and add it to the mix. Whip well and apply it on your face. Let it rest and before you wash it off take a steamed towel and wrap it on your face for some time, so that the face pack absorbs even more. Later wash off with lukewarm water.
Caution: Please use Home Remedies after Proper Research and Guidance. You accept that you are following any advice at your own risk and will properly research or consult healthcare professional.