Flawless skin epitomizes real beauty. However, due to constant exposure to sun, poor diet and a general lack of skin care routine leads to skin tanning and an uneven skin tone. Unfortunately, in our hectic lives, this realization comes when the damage has been done. The good news is that you can reverse the bad effects off your skin with the help of some easy herbal remedies. Regular application guarantees good results.
5 Herbal Remedies For Skin Whitening
1. Papaya Face Mask
Another effective face mask for people with oily skin is a mix of papaya, milk, milk powder and honey. For making this mask for instant fairness, mix together pulp of ripe papaya, a tea spoon of milk powder, a teaspoon of honey and enough milk to make a smooth paste. Apply for 20 minutes and wash off with plain water.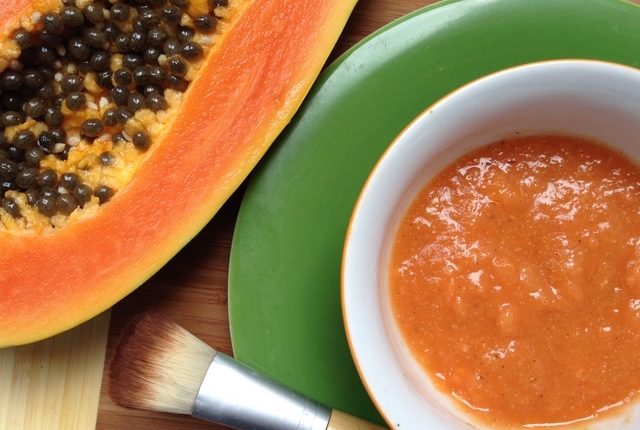 2. Sandalwood Mask
Sandal wood is a herbal and aromatic remedy to get fair skin and remove the tan. Those with oily skin can use plain sandalwood powder mixed with water on their face. People with dry skin can use sandal wood powder with almond oil for a glowing and fair complexion. Sandalwood is cool in nature and hence applying it during summers has a cooling effect also.
3. Almond Pack
Take a handful of soaked almonds. Peel them and grind them to make a fine paste. Mix this paste with raw milk and apply on face and neck. Let it air dry and then wash off with plain water. This is a very effective herbal remedy for skin whitening. Regular use will bring desired results fast.
Also Read
Best Home Remedies For Flawless Skin
Herbal Remedies For Dry Skin
Home Remedies For Oily Skin
Vitamins For A Healthy And Glowing Skin
Simple Ideas For Natural Skin Whitening
4. Rice Flour Scrub
Regular scrubbing ensures removal of dead cells which accumulate on the skin over a period of time and lend it a dull and sallow look.  Grind some rice to fine powder and mix in milk cream or curd as per your skin type. Use this as a scrub all over your body once in a week and fall in love with your skin. Make sure to finely grind the powder. Coarse powder will not make a smooth scrub and will fall off your skin quickly, making it messy and ineffective.
5. Honey And Lemon Juice
Another effective herbal remedy for skin lightening is a mix of honey and lemon juice.  Take honey and lemon juice ion equal proportions and mix them in a bottle. Store this bottle at a cool place but not refrigerator. Apply a thin layer of this mix on your face for 30 minutes daily. Rinse with plain water. Do not use soap because lemon juice is drying. Regular application not only lightens the skin tone, it also gives a beautiful glow to the face.
Along with these remedies, protection from harmful rays of sun is also very important. Applying a sunscreen on exposed parts of body 20 minutes before setting out goes a long way in getting an even complexion forever. Stay away from harmful whitening chemicals like Hydroquinone, mercury and steroids and regularly use the above said herbal remedies for best results.
Caution: Please use Home Remedies after Proper Research and Guidance. You accept that you are following any advice at your own risk and will properly research or consult healthcare professional.