If you like mayonnaise in your sandwiches, burgers and dips, try to use it in a hair pack. It is an excellent product for hair care and is perfect for shiny, beautiful hair. Homemade mayonnaise hair packs are not only easy to make, it nourishes hair and promotes healthy hair growth. Prepared with egg yolks, oils and vinegar, it is rich in amino acids which condition frizzy hair effectively. It also makes your hair look straighter and helps to manage messy hair easily.
There Are Plenty Of Hair Pack Options With Mayonnaise, Let's Look At 7 Amazing Solutions For Beautiful Hair:
1. Mayonnaise Pack
The simple mayonnaise pack is ideal for dull hair. It hydrates, nourishes and nurtures hair. To use this pack, take a cup of mayonnaise and apply it from the roots to the ends of each hair. It is best to apply it on wet hair. Leave it for 15 to 20 minutes before rinsing off. This can be tried once a week for visible differences in your hair quality. Alternatively, mayonnaise can be applied to dry hair also. In that case, you need to wrap a towel soaked in hot water around your hair and keep it for 15 to 20 minutes.
2. Mayonnaise, Egg Yolk And Olive Oil Pack
If you have frizzy, unmanageable hair, try the mayonnaise, egg yolk and olive oil pack. To make this hair mask, combine 1 cup of mayonnaise with 1 egg yolk and 1 tablespoon of olive oil. Add 1 tablespoon of lemon juice to the mixture and stir well. Blend all the ingredients thoroughly and apply it on damp hair. Keep it for 20 to 30 minutes. Wear a shower cap for maximum protection. Wash off with cold water. This pack can be used once a week to get rid of frizzy hair.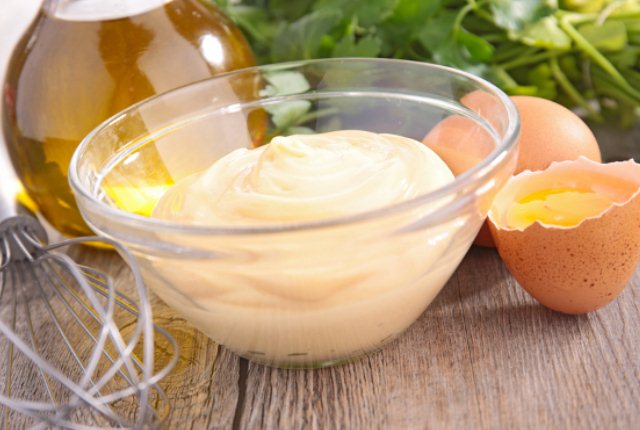 3. Mayonnaise, Apple Cider Vinegar And Honey Pack
A perfect conditioning and nourishing hair mask can be made with ½ cup mayonnaise, 1 tablespoon of apple cider vinegar and 2 tablespoon of honey. Blend all the ingredients thoroughly to form a smooth mixture. Apply it on your hair strands, covering it from top to bottom. Let it sit for 40 to 45 minutes. Wrap a hot towel around your hair. Wash off with a mild shampoo for best results. If you try this 3 to 4 times in a month, you can easily notice the difference in your hair quality.
4. Mayonnaise, Egg And Coffee Pack
The mayonnaise, egg and coffee pack works incredibly well for dry and itchy scalp. Take ½ cup of mayonnaise and add 1 beaten egg to it. Mix 2 tablespoon of fine powdered coffee to the mixture. Use this pack to cover your scalp and hair follicles. Apply it along the length of your hair and leave it for as long as you can. It is particularly effective if you can keep it overnight. Shampoo with a mild sulfate free product and wash off with cold water. If you try this once or twice a week, the itchiness will disappear in some time.
5. Mayonnaise And Almond Oil Pack
For smooth, shiny and beautiful hair, try the mayonnaise and almond oil hair pack. Take ¼ cup of mayonnaise in a bowl and mix 3 tablespoon of pure almond oil with it. Mix 1 or 2 eggs, depending on the length of hair, for extra nourishment. If you do not like the smell of raw eggs, omit this step. Cover every hair strand and scalp with the hair pack. Leave it for 30 minutes and wash off with a mild shampoo. This can be applied twice a week to get back the lost shine.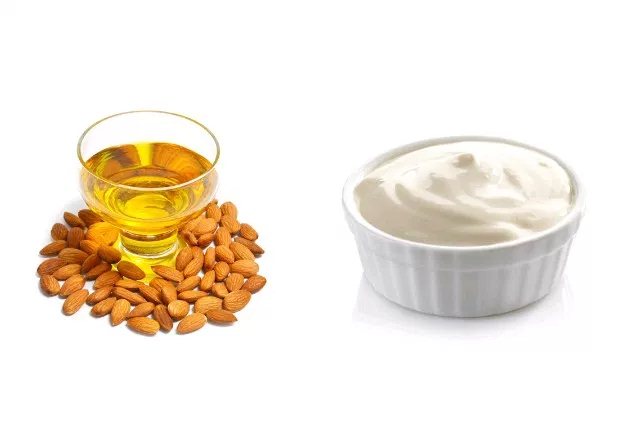 6. Mayonnaise And Avocado Pack
Avocado is packed with nutrients and when used as a hair pack with mayonnaise, it can effectively nourish your hair. The antioxidants help to maintain scalp health and keeps it perfectly nourished. To prepare this pack, take the pulp of one ripe avocado. Mix it with a cup of mayonnaise and blend the ingredients very well. Apply it on the scalp and cover the hair from its root to tip. Leave it for 20 minutes before washing off. To improve its efficiency, wrap a hot towel around your hair.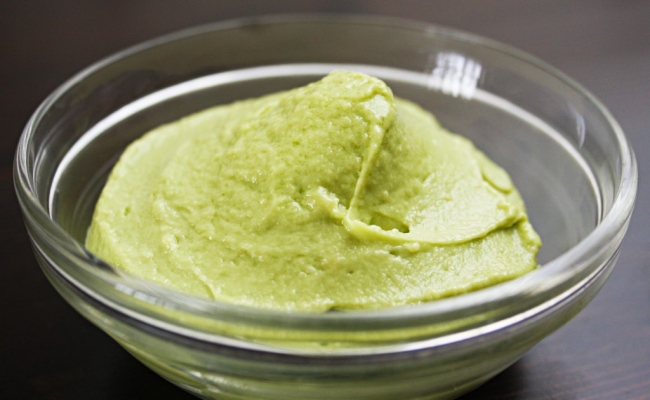 7. Mayonnaise And Strawberries Pack
If you have oily hair, this is the best pack for you. Strawberries are excellent for maintaining the pH balance of your scalp and it tackles oil secretion efficiently. It also keeps greasiness in check and removes dandruff. To make this pack, blend 8 to 10 strawberries to get a smooth paste. Add 3 tablespoon of mayonnaise to it and mix well. Apply it all over the scalp and hair. Leave it for 20 minutes before washing off.
Caution: Please use Home Remedies after Proper Research and Guidance. You accept that you are following any advice at your own risk and will properly research or consult healthcare professional.