Modern lifestyles, improper diets and an inclination towards different types of hair care products have wreaked havoc on our hair. Healthy hair, therefore, has become more of a myth. However, with proper care and nourishment we can achieve healthy hair, promote hair growth and stop hair fall. In attaining this objective, mustard oil can play a very vital role. It is a great source of Vitamins A, D, E and K, all known to be vital for our hair, skin and body. While the Vitamin A boosts hair growth, minerals such as iron, magnesium and calcium in mustard oil promotes healthy hair growth. Mustard oil also prevents premature greying and omega 3 fatty acids strengthens your hair follicles naturally. So, start using mustard oil for beautiful hair.
Here Are Some Of The Ways In Which You Can Use Mustard Oil For Shiny, Gorgeous Hair
1. Mustard Oil And Fenugreek Seed Mask
Mustard oil and fenugreek seed mask is extremely beneficial in controlling hair fall, promoting healthy hair growth and it also stops premature greying. Besides, it will add shine to your hair and it will look healthy. To make this mask, soak half a cup of fenugreek seeds in a cup of mustard oil. Keep it overnight. Heat the oil in the morning and let it cool down. Apply it on your scalp and hair strands. Leave it for as long as you can and wash off with a mild shampoo.
2. Mustard Oil Massage
This is the easiest way of using mustard oil on your hair. Heat mustard oil until it is slightly warm and comfortable to touch. Use your fingertips to gently massage your scalps with the oil. Cover the hair from top to bottom. Use a shower cap to cover your hair or cover it with a warm towel. Leave it for 1 hour and then shampoo your hair. It will add life to dull and damaged hair, giving it a healthy glow.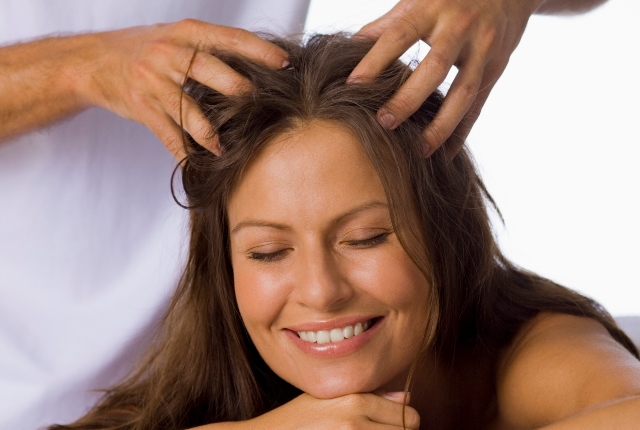 3. Mustard And Coconut Oil Massage
Oil massage makes your hair follicles stronger, replenishes damaged follicles and prevents hair fall. In order to avail all these benefits massage your hair with a mixture of mustard and coconut oil. Mix together 7 to 8 teaspoons of mustard oil and equal quantity of coconut oil in a small pan. Heat it until it is warm. Use the lukewarm oil to massage the scalp, hair roots and long hair strands. Leave it for 1 to 2 hours before shampooing.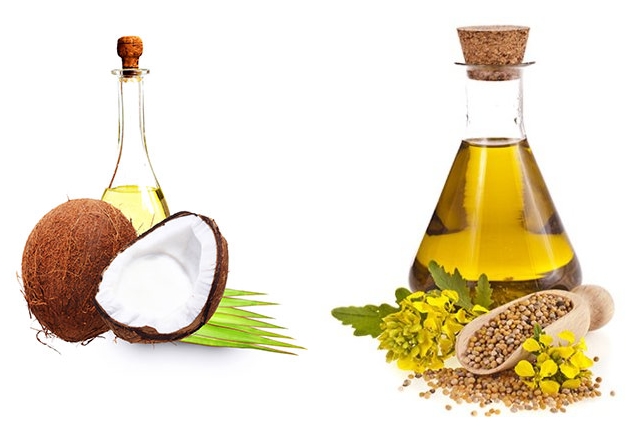 4. Mustard Oil And Triphala Powder Mask
An Ayurvedic herbal powder, Triphala can be effectively used for healthy hair. Take 2 to 3 teaspoons of this powder and add it to ½ cup of mustard oil. Soak it for some time. Dip a cotton ball in the mixture and apply it evenly all over the scalp. Massage your hair from top to bottom with this oil mixture. Leave it for 30 minutes before washing off.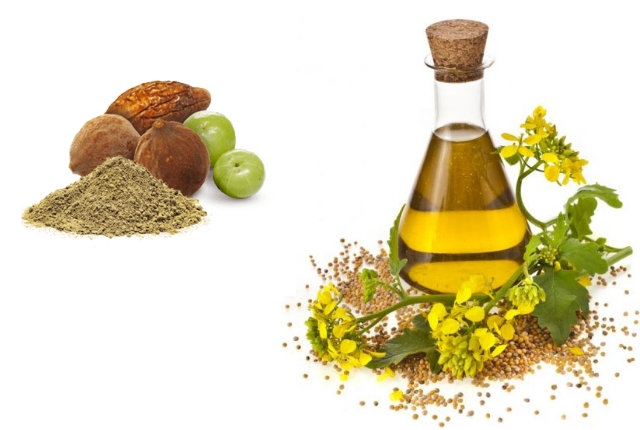 5. Mustard Oil And Curry Leaf Mask
Curry leaves are rich sources of vitamins, antioxidants and amino acids. It nourishes hair and stimulates hair growth. When combined with mustard oil, it can give you healthy hair. To make a mask, take ½ cup of mustard oil in a sauce pan. Add a handful of curry leaves to it. Heat it slightly until the leaves soak up the oil. Leave it to cool down. Use this oil to massage your hair and scalp. Leave it for an hour or two and then wash off with a mild shampoo.
Caution: Please use Home Remedies after Proper Research and Guidance. You accept that you are following any advice at your own risk and will properly research or consult healthcare professional.