Our kitchens are almost never devoid of onions. We use it in everyday cooking. But, have you ever thought of using it as a means to stop hair fall? If not, think over it because onion is a magical substance that can be used for healthy hair growth and the treatment of hair fall. Onion has an extremely high sulfur content which is known to boost keratin formation, an ingredient that strengthens your hair. Besides, sulfur is known to increase blood circulation and when you use onion juice on your scalp, the roots are rejuvenated and results in hair growth. Hair fall is sometimes the result of a scalp infection and the antimicrobial properties of onion helps to arrest hair fall to a large extent.
Here's How You Can Use Onion Juice At Home To Stop Hair Fall:
1. Onion Juice Tonic For Hair Fall
To make some onion juice, you need to grind a few onions in a blender. Sieve the blended onion to extract its juice. Discard the fiber and use the juice on your scalp. Gently apply it all over the scalp and leave it for 30 minutes. It can stop hair fall if used once or twice a week. Wash off with a shampoo and condition your hair.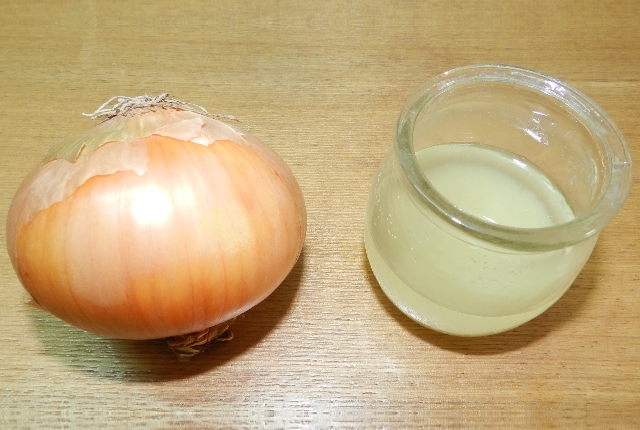 2. Onion Juice And Coconut Oil Mask
Coconut oil is extremely beneficial for hair growth and is a common remedy for stopping hair fall. A combination of onion juice and coconut oil therefore, makes a potent mix that can tremendously help in stopping hair fall. Mix 2 tablespoons of coconut oil with 1 tablespoon of onion juice. Gently massage your scalp with this solution and leave it for 1 to 2 hours. If you want to improve this concoction, add a few drops any essential oil of your choice. Shampoo your hair.
3. Onion Juice And Honey Mask
Another very effective way of arresting hair fall would be with an onion juice and honey mask. Mix 2 tablespoons of onion juice with 1 tablespoon of honey and gently apply it all over the scalp. Leave it for 15 to 20 minutes. Wash off with cool water and shampoo your hair. This can be used once a week for great results.
4. Onion Juice And Castor Oil Mask
Castor oil is extremely beneficial for rejuvenating damaged hair follicles. It balances the pH level of your scalp and prevents further hair damage, thus reducing hair fall. When used with onion juice, it becomes a great mask for hair loss. Besides, both the ingredients control fungal infections and are anti-bacterial in nature. To prepare this mask, combine 2 tablespoons of onion juice with 1 tablespoon of castor oil. Apply it evenly on your scalp. Leave it for 45 minutes to 1 hour. Use a mild shampoo to wash off. It can be tried twice a week to stop hair fall.
5. Onion And Garlic Juice Mask
Garlic juice helps to remove toxins from your scalp and prevents infections to a large extent. It also stimulates blood circulation which promotes hair growth and stops hair fall. Therefore, a combination of garlic and onion juice is just perfect if you are suffering from acute hair fall. Take 2 tablespoons of onion juice and add 6 to 8 cloves of crushed garlic. Leave it for 5 minutes. Dip a cotton ball and apply this solution on your scalp. Keep it for 30 minutes before washing off. Try this twice a week for best results.
Caution: Please use Home Remedies after Proper Research and Guidance. You accept that you are following any advice at your own risk and will properly research or consult healthcare professional.