Can it be said that your hair represents the other part of you? Yes, they can be. Your hairs can communicate indirectly to your peers about the type of person you are and what you are made of. The time and amount you spend on taking care of your hair speak volumes about you and can even imprint a professional statement about you. Unfortunately, in our quest to get that perfect hair, we spend ages in a spa – not to mention the currency we drool out for it. Ever wondered why it's always such a pain to take care of your hair? Well, frankly it is not. You can shift for some time to your vegetable basket to look at some of the amazing bits which nature has wholesomely provided us. Some of the vegetables can be much more nutritious to your hair than the chemical based substances that you regularly end up getting over the counter.
Let us take a peek at one such vegetable that can set your imagination run wild and is also very beneficial for your hair – The onion. Onions are loaded with Vitamin C, and they are very beneficial in deep nourishing your hair. Though they themselves smell a bit strong, they are helpful for getting rid of the hair odor naturally and leave your hair smelling fresh and serene. Onions also take care of the oil build up in your scalp. So in a way, it effectively keeps a check on itching and dandruff. They are also extremely beneficial for hair regrowth. It is best used in its juice format. To make the juice, take an onion and peel off the skin. Blend it in a blender, take the juice out and strain it with a spoon to get the juice. Now let us look at how best this can be used for your hair.
Below Are The 5 Homemade Onion Juice Hair Masks For Shiny And Supple Hair:
1. Onion Juice And Coconut Oil
Coconut oil is one great substance that can be used on your hair, irrespective of the scalp. They are abundant with nutrients that are very beneficial for your hair growth. To make this mask take 2 teaspoons of onion juice and add 2 teaspoons of coconut oil to it. Mix well with a few drops of honey and apply on your hair. Wear a shower cap if needed and cool it for about 30 minutes on your hair. Later rinse your hair well and apply a mild conditioner before shampooing the hair.
2. Onion Juice And Yogurt Hair Mask
Yogurt can be very beneficial for maintaining the natural texture and the robustness of your hair. The mask also makes your hair suppler and prevents it from damage. Take 3 teaspoons of onion juice and a tablespoon of olive oil and mix with 2 tablespoons of fresh yogurt or curd. Whip well and spread it on your hair. After about 30 minutes rinse well and later use a conditioner and a mild shampoo to wash the effects off.
3. Onion Juice And Mayo Hair Mask
Mayonnaise works as a great supplement to your sandwiches and burgers but did you know that it can be a great supplement for your hair? Mayo and onion can leave across a smooth, shiny and silky hair and can work wonders for the benefit of your hair. Make a thick onion juice and take some 5 teaspoons of it. Add it to 2 tablespoons of mayo sauce and whip them well. Put in a few drops of honey too and mix well. Apply it on your hair and after about 30 minutes wash them off with cold water and later use a mild conditioner before shampooing. If the paste appears to be thick and sticky, use a tablespoon of olive oil to the paste before applying.
4. Onion Juice And Lemon Hair Mask
No hair mask can ever be complete without the inclusion of lemon, and an onion mask is also no exception. Lemons are hugely beneficial for your hair in many ways and helps in preventing hair loss. Take 5 teaspoons of onion juice and mix it with 2 tablespoons of olive oil. Next, add two teaspoons of lemon juice to the contents and a tablespoon of raw honey to the mixture; mix well and apply on your hair. After about 30 minutes rinse well and do not forget to use a mild conditioner on your hair before shampooing off the effects.
5. Onion Juice and Aloe Vera Hair Mask
The gel from Aloe Vera can work as a great medium for controlling an oily scalp. They are also very beneficial to regain the strength of your hair, and along with onions, your hair gets rejuvenated from deep within. Add some 4 to 5 teaspoons of onion juice to 2 tablespoons of fresh Aloe Vera juice. Add a pinch of lemon juice and a few drops of honey to the mixture. Apply on your hair and let it set for about 30 minutes. Later wash your hair with cold water and rinse well with a mild conditioner before shampooing.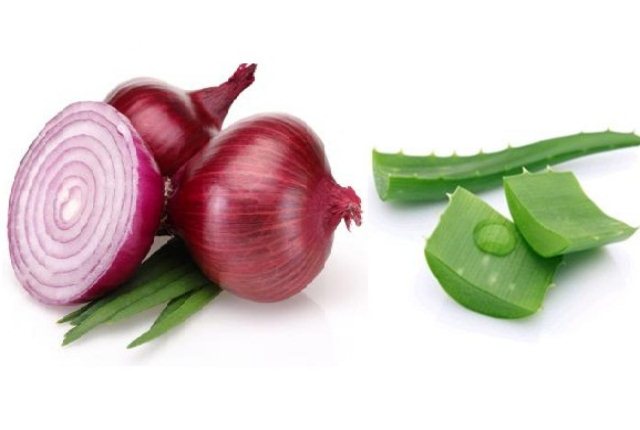 Onions can have a strong pungent smell and you may be required to add in some essential oils for improving the smell. While making the juice, add a few drops of fragrance essential oil like lavender or wheat grass to mask the smell and to give a ravishing fragrance to your hair.
Caution: Please use Home Remedies after Proper Research and Guidance. You accept that you are following any advice at your own risk and will properly research or consult healthcare professional.