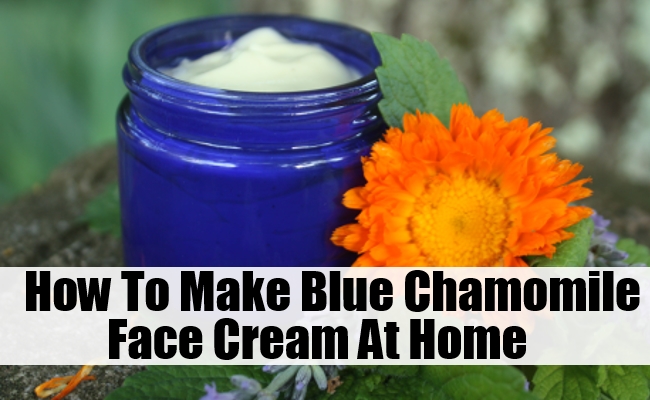 Blue chamomile face cream does wonders for your skin. Blue chamomile is rich with nutrients and has anti inflammatory and healing properties and has a soothing effect on the skin. It also helps curb fine lines on the face. Instead of buying the product from the market which can be an expensive affair you can easily make the cream at home.
When you start making the cream make sure that all the utensils and equipments are sterilized so that there is no contamination and the shelf life of the final product will also be more.
Here Is The Procedure Of Make Blue Chamomile Face Cream At Home:
Ingredients:
Herbal infused water,1 tablespoon of jojoba oil,1 tablespoon of Meadowfoam seed oil,1/2 tablespoon of tamanu oil,3 tablespoons of sweet almond oil, 2 tablespoons of Stearic acid, 2 tablespoons of Shea butter and ½ tablespoon of beeswax.5 drops of carrot seed oil, 20 drops of blue chamomile oil and few drops of lavender essential oil.
Procedure To Make Herbal Infused Water:
Take in equal amounts rose petals, chamomile, lavender buds, calendula flowers, plantain and lemon balm leaves. You can use fresh or dry herbs as per availability. Place all of these in a glass container with air tight lid. Dispense hot distilled water on the herbs and close the lid so that vapors remain inside .Let it stand for about an hour. Your herbal infused water is ready.
Procedure To Make The Blue Chamomile Face Cream:
In a glass jar add the jojoba oil, meadowfoam oil and tamanu oil. Add three tablespoons of sweet almond oil and mix well. To this add the Shea butter, beeswax and stearic acid. Mix well and place this jar in a container containing boiling water until the mixture melts well. Remove from glass jar containing the mixture from the hot water bath and let it stand till it comes to body temperature. In the meanwhile strain herbal infused water and let the liquid come to body temperature.
Once both have come down to body temperature add 4 tablespoons of herbal infused water (which should be slightly warm) to the mixture and mix the two using an electric beater. Finally add all the essential oils (5 drops of carrot seed oil, 20 drops of blue chamomile oil and few drops of lavender essential oil.) and keep beating with the electric beater till you can a cream of nice thick consistency. Your blue chamomile face cream is now ready. Store it in a container. Remember that the shelf life of this cream is less and should be finished off as soon as possible. One more alternative and quick method of making blue chamomile face cream involves the use of aloe vera and chamomile tea.
Quick Method:
Ingredients:
Want to make the cream with lesser ingredients here is the quicker version. For this you will need ½ cup olive oil,1/4 cup coconut oil,2 tablespoons of beeswax,3/4 cup of water, ¼ cup of aloe vera gel, chamomile teabag, few drops of blue chamomile essential oil and few drops of lavender essential oil.
Procedure:
Make chamomile tea by using the teabag and steaming water. In a container take olive oil, coconut oil and beeswax and melt the mixture by keeping the container in a vessel containing boiling water. Now add the aloe vera gel, chamomile tea and the essential oil and mix using an electric beater. Keep mixing till you get cream with right consistency.
So make this ultimate face cream with any method that you wish to and apply it generously to your face and see the wonderful positive effects that it has on your skin.
Caution: Please use Home Remedies after Proper Research and Guidance. You accept that you are following any advice at your own risk and will properly research or consult healthcare professional.