Holy Basil scientifically known as Ocimum Sanctum is a miraculous medicinal herb that has powerful antioxidant, antifungal, antibacterial and anti-inflammatory properties. In Ayurveda, holy basil is used to treat several medical conditions-from common cold, oral care, digestive complaints, fever, asthma, respiratory disorders, heart disease and even stress. Not just health, holy basil is a wondrous herb which has endless beauty benefits also. This is why basil is one of the most basic ingredients in many herbal skin care products. Homemade basil face pack can be used to clear acne and blemishes, remove under eye dark circles, age spot and get spotless, refreshing and glowing skin without spending big bucks for expensive cosmetics or spending hours in beauty salons.
Here Are 5 Face Packs With Basil As Main Ingredient To Enhance Your Beauty Manifold:
1. Basil And Margosa Face Pack For Acne Prone Skin
Ingredients:
10-15 basil leaves
10-15 Margosa leaves
1tsp. Sandalwood powder
1tbsp. rose water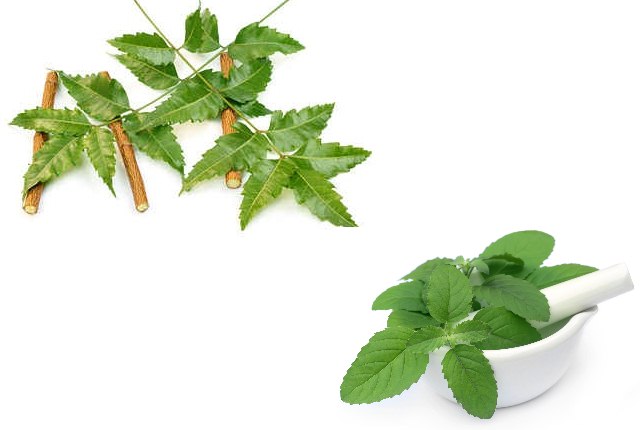 Procedure:
Wash the leaves thoroughly to take out dirt. Grind the leaves to get a thick paste. Add sandalwood powder and rose water to this paste. Apply this pack on your cleansed face and leave it on your skin till it dries on your skin and then wash off. Both basil and margosa leaves have impressive anti-inflammatory and anti-bacterial property and works well for combating acne, sandalwood and rose water will further sooth the skin and help to get clean clear skin. Use this pack twice a week to get rid of acne and blemishes quickly. Basil and curd face pack
2. Basil And Curd Face Pack For Dry Skin
This face pack is prepared easily at home to remove the dead skin cells and dryness.
Ingredients:
Handful of Basil leaves powder
1 tbsp. of Curd
Procedure:
To make basil powder, dry a handful of basil leaves in shade. It will take 3-4 days to dry them completely. Grind them into fine powder and store the powder in an air tight container. In a bowl mix one tablespoon of basil powder and 1 tbsp. curd to get a smooth paste. Apply the pack on your entire face and wait till it dries. Rinse off with normal water to get soft and supple skin.
3. Basil And Tomato Face Pack For Fading Scars
Ingredients:
12-15 Basil leaves
Tomato pulp made from 1 medium size tomato
Procedure:
The unsightly marks and scars from acne and blemishes that are often left out after breakouts can be cleaned or lighten using this pack. Grind basil leaves and tomatoes to get a thick paste like consistency. Apply the pack on your prewashed skin and allow it to dry. After 15-20 minutes when the mask gets dried on your skin, wash off your face with normal water. Regular use of this pack will gradually fade away the scars and help your skin glow.
4. Basil And Milk Face Pack For Bright Skin
Ingredients:
15-20 Basil leaves
1tsp. milk or milk powder
Procedure
This basil face pack is highly effective for bringing instant glow to you face by clearing up all the dirt and grime from your skin. The lactic acid contained in milk and antioxidant properties of basil leaves aid to brighten up the skin. Make this pack by grinding the basil leaves with milk to get a thick paste. Apply this paste all over your face and neck and wait till it dries. Wash off with plain water to reveal soft glowing skin. This pack suits all skin type.
5. Basil And Fuller's Earth Face Pack For Oily Skin
Ingredients:
2 tablespoon fuller's earth
A handful of Basil leaves
Procedure:
Oily skin is more prone to breakouts. This basil and fuller's earth face pack is excellent for controlling excessive oil secretion and keep skin clear. Make a thick paste blending fuller's earth and basil leaves. Add some rose water to get medium consistency. Apply the paste uniformly on your facial skin and rinse off after 20-25 minutes. Apply once a week to keep skin clean and oil free.
Caution: Please use Home Remedies after Proper Research and Guidance. You accept that you are following any advice at your own risk and will properly research or consult healthcare professional.