Acne scars can be very stubborn and in some cases difficult to remove. Acne occurs due to clogged skin pores, which cause the build up of bacteria. This bacterium then causes pimples, which can mar your skin and lead to pits or acne scars. One of the reasons why people are left with acne scars is because they fail to take good care of their skin.
The habit of picking the pimples can also lead to acne scars. While acne scars can be treated to some extent with the help of medicines and creams, there are some simple and effective natural cures for dealing with them.
Ways To Cure Acne Scars Naturally
1. Lemon Juice
Lemon juice is one of the best natural bleaching agents for dealing with and removing acne scars. Squeeze out the juice of a lemon and apply this all over your face with the help of cotton. Leave the juice on your skin for 5 minutes before washing it off. This not only helps to whiten the skin but also helps to fade away the scars.
2. Homemade Face Mask
Make a mask at home by mixing together oatmeal, curd, cream and some lemon juice. Apply this thick paste all over your skin and leave it on for 20 minutes before washing it off. You can use this mask on your skin at least 3-4 times a week for best results. This mask gives you super glowing skin and evens out the complexion.
3. Tomato Juice
Tomato juice is very good in removing unnatural pigmentation, tanning and acne scars. This is because tomato juice is loaded with skin nourishing anti-oxidants that helps to fade away the acne scars. You can use a combination of tomato juice, cucumber juice and milk for smooth and even skin tone. You can use tomato juice everyday for best results.
4. Natural Toner
Make a natural toner at home, which helps to tighten the skin pores and diminishes the development of acne scars. You can use apple cider vinegar for this purpose. Dilute the apple cider vinegar in water and cleanse your face with this after you have washed your face. The toner helps to tighten the skin pores, removes ugly acne mars and prevents the formation of pimples.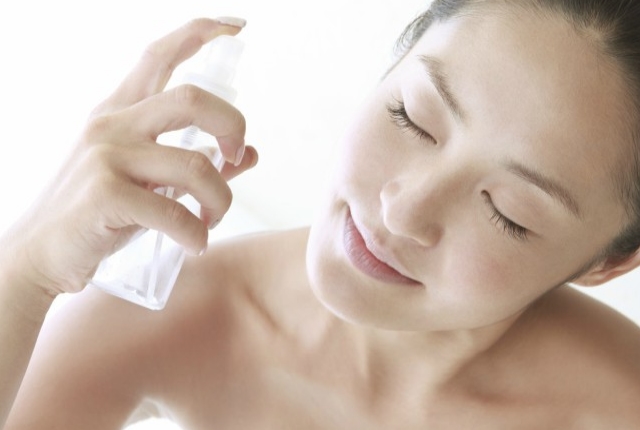 5. Sandalwood Powder
A homemade face pack can be used by mixing in sandalwood powder and rose water. This helps to tone and tighten the skin and remove acne scars. It also leaves your skin soft, fresh and supple.
6. Gram Flour
Gram flour is one of the best natural remedies and cures for a number of skin related problems. It has been used since time immemorial for diminishing tanning, removing pimples and whitening the skin. Take a tablespoon of gram flour. To this add a pinch of turmeric, curd and lemon juice and apply this pack on your face. Wash it off with cold water after 15 minutes. You can use this pack almost every day just before you take a bath.
7. Almond Oil
Sweet almond oil works wonders on the skin by removing the ugly, raised bumps caused on the surface of the skin by acne scars. You can massage the oil into your skin once a week in conjunction with other remedies.
Also Read
Natural Cure For Acne
Vitamin E To Get Rid Of Acne Scars
Home Treatment For Acne Scars
Home Remedies For Acne Scar Removal
Home Remedies For Acne Scars
8. Egg Masks
The use of egg whites as a facial mask has been the area of extensive research by skin specialists. This is because egg masks allow the build up of protein in the skin. This in turn increases collagen production, which in turn heals and repairs the skin. Egg masks can be effectively used to treat acne scars and even out the skin tone. You can use oatmeal, honey and a thin layer of egg whites on your skin. Wash it off after some time for best results.
9. Baking Soda
Baking soda is a good natural cure for treating acne scars. Use some baking soda along with olive oil and gently exfoliate your skin using gentle strokes. This is a good remedy for treating and removing acne scars.
10. Aloe Vera Gel
The gel extracted from an aloe Vera plant is very good for skin healing. It has been used for treating burns, eczemas and allergies. Use the gel liberally on your face as soon as the pimples or acne fades away. This helps to cool the skin and also reduces itching sensation, which makes a person pick at his/her pimples.
11. Fenugreek Paste
Fenugreek paste is a potent herbal remedy for removing acne scars. Soak some fenugreek seeds overnight in water. Now grind them as soon as you get up in the morning. This thick paste can then be applied on the skin. Not only does it dry out the pimples but also reduces the incidence of acne scars being formed on the surface of the skin.
12. A Healthy Diet
A healthy and wholesome diet that is high on nutrients is one of the better natural remedies. It is important to remember that good food and sound nutrition goes a long way in healing the skin and promoting internal recovery and repair. You can eat fibre, grains, nuts, fish, olive oil, fruits and veggies as these are all high in vitamins, minerals and omega-3 fatty acids that leave the skin smooth and beautiful. Stay away from refined, processed, spicy and greasy foods as they increase the incidence of pimples in the body.
13. Ice Cubes
Ice cubes help in early prevention and formation of pimples. You can rub the ice cube on your skin just after the pimples are forming scabs. This reduces inflammation, pain and itching which in turn promotes the formation of acne scars.
14. Cleanse Your Face
Make sure you follow a daily routine of cleansing your face with soap or a cleanser. You can apply the cleanser on your face and remove all the accumulated dirt and grime. This cleansing routine will prevent the recurrence of pimples on your skin and thus reduce the incidence of pockmarks or acne scars.
The above natural remedies are quite effective in getting rid of acne scars provided you heed to them judiciously and also eat a healthy diet. Drink plenty of water and avoid picking or scratching the pimples.
Caution: Please use Home Remedies after Proper Research and Guidance. You accept that you are following any advice at your own risk and will properly research or consult healthcare professional.