The agony of having dark circles around the eyes is some thing most people encounter at some point in their lives. This unwanted condition significantly underplays the beauty of eyes and face. Those who have this terrible condition often turn to a concealer to hide dark circles. Though a concealer, if applied correctly, does a great job in covering dark circles but its thick texture along with the tugging and pulling that is needed to apply it on the delicate under eye region may become a cause for early onset of lines and wrinkles in that region. Those who have wrinkles around their eyes should refrain from applying a concealer as it tends to get trapped in the lines and makes them appear more pronounced.
To overcome dark circles it is important to nourish the delicate under eye area with a light textured moisturizing serum or cream that also reduces puffiness and wrinkles. Almond oil is particularly beneficial in diminishing dark circles around the eyes owing to its dense nutrient composition. It packs in significant amounts of vitamin E, K and retinol, the key ingredients that play a vital role in eliminating dark circles. Dabbing a few drops of almond oil around the eyes every night before going to bed lessens the appearance of dark under eye area in a matter of few weeks. Combining almond oil with other natural elements that give relief from dark circles quickens the healing process and gives instant relief from this troubling condition.
Here Are Some Ways To Use Almond Oil To Eliminate Dark Circles Around The Eyes:
1. Almond Oil With Lavender Oil
This is an impressive homemade eye serum that can be used to banish dark circles. Lavender essential oil helps in fading darkened area around the eyes by improving blood circulation and activating skin cells around the eyes. Combine two teaspoons of pure almond oil with ten drops of lavender essential oil in a small container and shake it to blend both the oils. Apply two to three drops of this serum around your eyes and massage lightly with your fingertips without stretching the area. You will see noticeable improvement in the appearance of dark circles after a month or two of applying this serum.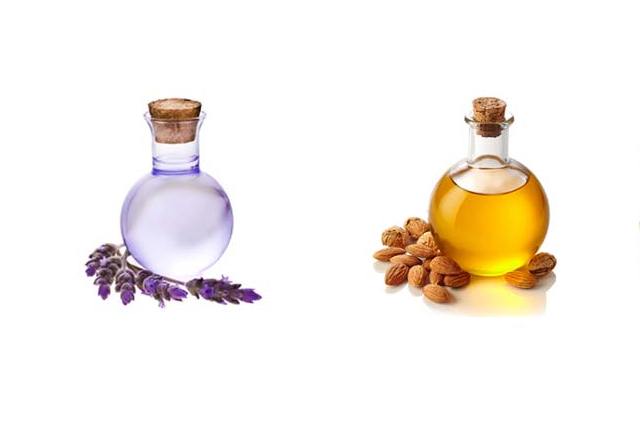 2. Almond Oil With Coconut Oil
Coconut oil is replete with skin nourishing nutrients such as vitamin E, fatty acids and antioxidants that help in hastening cell renewal process This helps in renewing the skin around the eyes at a faster speed thereby eliminating dark circles from around the eyes. Blend a teaspoon of almond oil with a teaspoon of coconut oil. Smear a drop or two of this blend around your eyes every night before going to bed to visibly reduce the appearance of dark circles around the eyes.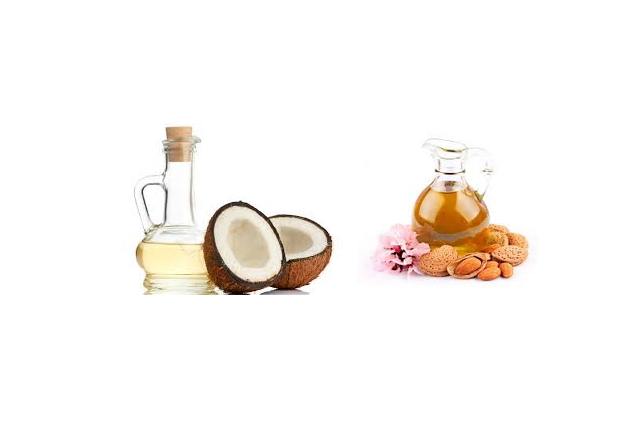 3. Almond Oil With Coffee Powder
Coffee powder has significant amounts of caffeine that helps in lightening dark circles and firms the tender skin around the eyes. Combine one tablespoon of coffee powder with six teaspoons of almond oil in an empty container. Close the lid of the container and shake it to mix both the contents evenly. Place this container at room temperature for upto a week and then filter the oil and transfer it to another container with a dropper lid. Dab two to three drops of this blend around your eyes to get rid of dark circles.
4. Almond Oil With Milk
Milk is an excellent skin regenerator as it is rich in vitamin A, B6, proteins and lactic acid. Placing cotton pads soaked in cold milk rejuvenates tired eyes and lightens the appearance of dark circles. To reap the benefits of milk mix four to five drops of almond oil in a tablespoon of cold milk. Soak a cotton ball in this concoction and place it under your eyes. After ten to fifteen minutes remove the cotton pads and wash the area with cool water.
5. Almond Oil With Gelatin Powder
Gelatin is a store house of vitamin K and biotin which help in reducing any darkness around the eyes by amping up cell regeneration. It helps in firming the under eye skin and rejuvenates dull looking eyes. Mix a teaspoon of gelatin powder with a tablespoon of hot water. Stir this mixture until it turns into a thick paste. Allow this to cool and add four drops of almond oil into the gelatin mixture. Apply this liquid under your eyes with the help of a cotton ball and keep it on for twenty minutes. Wash your eyes with cold water.
6. Almond Oil With Matcha Green Tea
Matcha tea is a dominant source of anti-oxidants and caffeine which help in curbing darkened skin around the eyes and keeps wrinkles at bay. Mix a teaspoon of matcha tea powder in two tablespoons of warm water. Allow this infusin to cool. Drizzle five drops of almond oil over the tea infusion. Soak two cotton balls in this mixture and place them over your eyes. Remove the cotton pads after twenty minutes and wash your eyes with cold water.
7. Almond Oil With Glycerin
Pure vegetable glycerin can be of great help in reducing dark circles around the eyes. It helps in activating skin regeneration process by giving it a moisture boost. In a small container stir four drops of almond oil with four drops of glycerin. To this add two teaspoons of rose water. Stir the mixture to evenly incorporate all the contents together. Appy this infusion over the affected area under your eyes with the help of cotton balls. Wash your eyes after fifteen minutes. Do this daiy for a couple of days to get relief from dark circles.
8. Almond Oil With Avocado
Avocados are loaded with age defying omega fatty acids and anti-oxidants which help in eliminating darkened under eye area. Mash one cored ripe avocado with a fork and mix in five drops of almond oil. Pace this blend under your eyes. To keep the mask from coming off cover it with twp pieces of thin gauze. Let it stay for twenty minutes and then remove. Wash your eyes with cold water. Repeat this two to three times in a week for some months to eliminate dark circles.
Caution: Please use Home Remedies after Proper Research and Guidance. You accept that you are following any advice at your own risk and will properly research or consult healthcare professional.