Double chin isn't really a beauty constraint for as long as it doesn't bother you. In case if it does, and you don't have those extra bucks to shell out on expensive surgeries, you have just landed on the right place. Makeup is one such magical wand, that when done properly, can surpass every beauty hazard without much fuss. Today we shall be discussing 5 such wonderful makeup hacks that with create such an illusion that your double chin will disappear completely, like it never was. So, let us begin.
1. Paint Your Jawline
No, we do not mean use an emulsion, what we mean is fill the chin depression smartly with a foundation. Now this one trick is for ladies who wear minimum makeup, or the ones who have a smaller depression as compared to some others. Simply use a matte and opaque cream based foundation that is about 1 tone darker than your skin tone. Apply a very thin layer of loose powder over the foundation and start blending the two in the upward direction. This will create a dramatic contrast between the rest of your bare or almost bare face, and your mild double chin will vanish.
2. Use A Bronzer
Now we skip to the deeper depressions that might be troubling you. Firstly, do your entire makeup, using shimmers, normally like you do it, but keep it minimal towards the lower section of the chin that meets the neck curve. Use a stick based color corrector that matches exactly the colour of your makeup, and apply it in between the chin depression. Gently glide a double layer of golden matte bronzer, if you're olive or dusky, and peach to pink matte bronzer if you're fair. Top it up with a translucent compact and start stroking them in the upward directly till they blend with the rest of the makeup. The shimmer and matte contrast will make your face much visible than your chin.
3. Brighten Up Your Eye Shadow
This is a clever trick to divert all the focus from your chin to the brighter areas of your face. One such trick is brightening your eyeshadow. Use a shimmering highlighter just over the primer before you glide the eyeshadow. This will instantly make the eyes appear brighter. Draw a thick black line on the upper lid with a black eyeliner, and stroke it a little outward. Do the same on the lower lid and join the two. This will make the eyes look bigger and brighter, and the entire focus of your face will be your eyes.
4. Use Dark Lip Shimmers
Instead of going with dark matte colours, it is better to go with deeply pigmented shimmering lipsticks and lip glosses. Apply a mattifying bronzer on the jawline just like explained above. This will build a highly dramatic contrast between shimmers and matte. And shimmering lips will certainly grab the attention rather than flat opaque almost concealed double chin. A word of caution though, never wear light lipsticks even if they are loaded with shimmers. Hiding double chin needs a blend of colours and shimmers, both.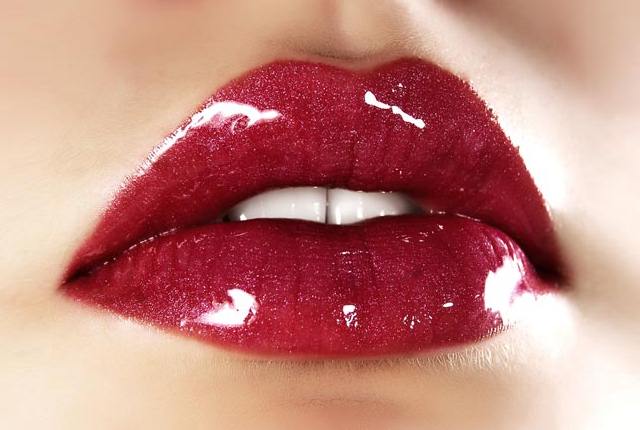 5. Use Glitters On Your Neck
First of all, wear a deep neck blouse. Flaunt as much neck depth as you can. Second, use a golden shimmering bronzer, if you're olive and dusky, or a pink to peach shimmering bronzer if you're fair, on your entire exposed neck in upward strokes. Cover the chin with matte foundation like described in the second trick. This will divert the attention on the neck, naturally hiding your double chin.
These are 5 clever makeup hacks that actually work more effectively when combined with brighter coloured clothes and permed hair. Also, never use a makeup spray to settle down your makeup before separately contouring your jawline.
Caution: Please use Home Remedies after Proper Research and Guidance. You accept that you are following any advice at your own risk and will properly research or consult healthcare professional.