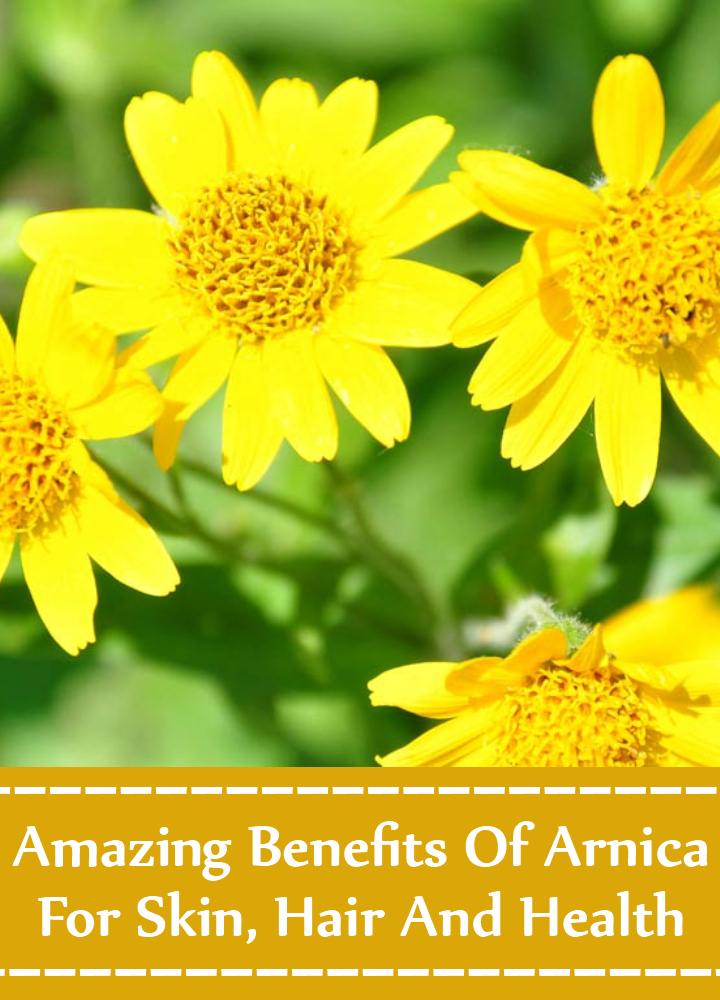 If you are familiar with homeopathic medicine, arnica will be a common term for you. It is extensively used in the preparation of numerous medicines and is known to be very effective for the body. It is basically a perennial herb belonging to the family of sunflowers. Fresh as well as dried extracts of the arnica flower is used to prepare different types of herbal cosmetics as well as medicines. Arnica works wonders for your skin, hair and health.
Let's Find Out How You Can Use It To Improve Your Skin, Hair And Health:
1. Arnica Is Helpful For Cuts And Bruises
Damaged or wounded skin is greatly benefited with the use of arnica. It helps in its restoration and nourishment. Helenalin, a restorative compound found in arnica, helps to renew skin cells after it has been exposed to stressful conditions. Besides, its antibacterial, anti-inflammatory and antiseptic properties protect the skin from further damage or infections. It is also ideal for bruises, cuts or burns.[1]
2. Arnica Helps To Control Eczema
Eczema is a very troublesome skin condition that affects many people around the world. And arnica has been found to be very favorable for people suffering from eczema. Medicines or lotions containing arnica is often prescribed to get rid of the itching associated with eczema. It also soothes open wounds caused due to excessive drying of the skin, a condition very common in eczema patients.[2] Arnica is also used for getting rid of numerous other skin problems.
3. Arnica Reduces Stretch Marks
Stretch marks are a nuisance and are hard to get rid of. Whether it is due to pregnancy or excessive weight loss, stretch marks can be taken care of with the use of arnica gel.[3] Apply the gel on the marks at least four times a day for favorable results. It not only helps to get rid of the marks, it also reduces its occurrence.
4. Arnica Controls Hairfall
Arnica is extremely efficient in strengthening your hair. It rejuvenates the scalp and curtails hair fall to a large extent. It also strengthens the hair follicles, thereby controlling hair fall to a large extent.[4] Herbal shampoos or hair tonics with arnica are often used for this purpose and regular usage can give you beautiful, silky hair.
5. Arnica Averts Premature Greying Of Hair
A lot of people complaint about premature greying and it can be efficiently arrested with the use of arnica. Its medicinal properties make the hair stronger and helps to get rid of scalp infections.[5] Regular massaging of the scalp with arnica oil can help you get rid of hair problems easily. It also provides nutrition to the hair follicles and in turn, averts premature hair greying.
6. Arnica Provides Relief From Arthritis
The anti-inflammatory property of arnica proves beneficial for arthritis. Swelling, muscle pain and joint aches associated with arthritis is often reduced with the use of arnica gel or lotion.[6] The essence of arnica plant is beneficial for rheumatoid arthritis.  Arnica is also used to provide relief from post-surgery pain.
7. Arnica Is Great For Oral Health
Mouthwashes and dental gels are known to use arnica on a large scale to provide optimum oral health. It not only improves your dental hygiene, but also helps to chuck away bacterial infections such as pyorrhoea and gingivitis.[7] As a result, opt for arnica mouthwashes or gels daily to improve your oral health.
Caution: Please use Home Remedies after Proper Research and Guidance. You accept that you are following any advice at your own risk and will properly research or consult healthcare professional.