Pollution and sun not just damage the face, they also damage the rest of the body. Sun and pollution damaged skin is tanned, dry and dull. While we all shift our focus towards de-tan packs and whitening moisturizes, not many people know that skin whitening soaps offer amazing benefits as well. When we usually think about soaps, the first thing that comes to mind is chemicals. But some skin whitening soaps are loaded with the goodness of natural oils and skin whitening minerals, and are devoid of skin harming chemicals. We have handpicked 5 best skin whitening soaps that are hydrating and can gently uplift your complexion, and make it up to 2 tones fairer, without drying your skin.
1. Papaya Whitening Soap By Silka
This is a hundred percent herbal soap that is enriched with the goodness of natural papaya extracts. Though it offers a mild fruity fragrance, yet it is non allergenic. Thus, it is also suitable for women having sensitive skin. It gently exfoliates the epidermis and removes dead cells, dirt and tanning. It hydrates the skin and doesn't disturbs its pH level. It is non sticky and easily removable. It shows its whitening effects when used continuously for 4 weeks.
2. Smoothening Whitening Body Bar By Belo Essentials
This super affordable whitening soap is long lasting. It is loaded with the goodness of skin reinventing and revitalizing minerals that hydrate and moisturize dry skin deeply. It is a prolific soap that starts showing its results within 7 days of continuous use. It is enriched with glycerin. Glycerin nourishes the body and the skin starts glowing. It effectively reduces tanning and blemishes by exfoliating the dead epidermal cells. It can make the skin up to 2 tones fairer. It is an ideal summer whitening soap, since it can control sweat. It lathers too well and causes no rashes, allergy or inflammation. It is dermatologically approved as well.
3. Luxurious Saffron Soap, Skin Whitening Therapy By Vaadi Herbals
This moisturizing herbal soap is an ideal pick for women with dry skin. It is a customized handmade soap that is loaded with the goodness of saffron. Saffron is an ancient whitening herb that reduces dark spots, freckles, tanning and pigmentation. This soap is a warehouse of skin whitening and hydrating essential minerals and goat milk. Milk keeps the skin moist by maintaining its pH level to neutral. The essential minerals make the skin smooth by improving its overall health and texture. This soap detoxifies the body by getting rid of toxic pollution and smoke particles. It is non allergenic and non comedogenic. It is non sticky and comes off very easily.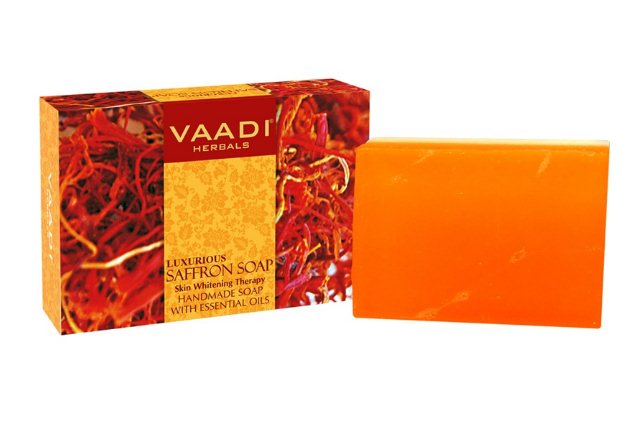 4. Kozirex Skin Whitening Soap
This soap is much more than a simple skin whitening remedy. It is loaded with the goodness of Vitamin C, Kojic acid, Vitamin E and Arbutin. Kojic acid has amazing melanin controlling property. Thus, it reduces the melanin formation and secretion. This is highly beneficial for people suffering from pigmentation. Vitamin C is an antioxidant that bleaches the skin and makes it twice fairer. Vitamin E is an excellent sun proofing antioxidant that keeps the skin safe from UV damage. And Arbutin has hydrating and moisturizing properties that keep the skin smooth and soft. This excellent whitening soap also reduces fine lines, wrinkles and tanning within two weeks of its regular use.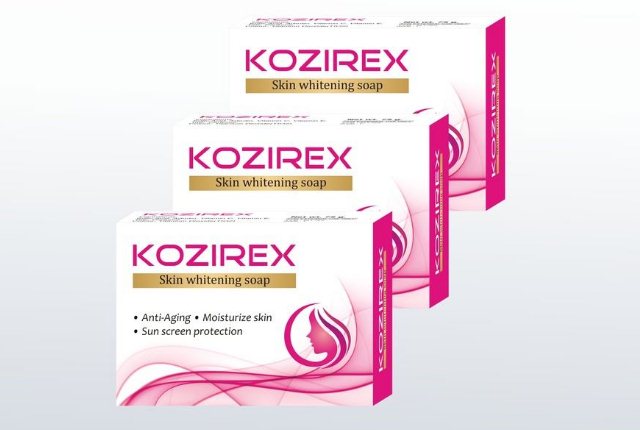 5. Bath And Body Glutathione Skin Whitening Soap By Health Vit
This revolutionary whitening soap contains high amount of glycerin. Glycerin keeps the body soft and moisturized. Glutathione is one amazing rescue for women suffering from tanning and inflammation. It makes the skin younger and fairer within a month of its regular use.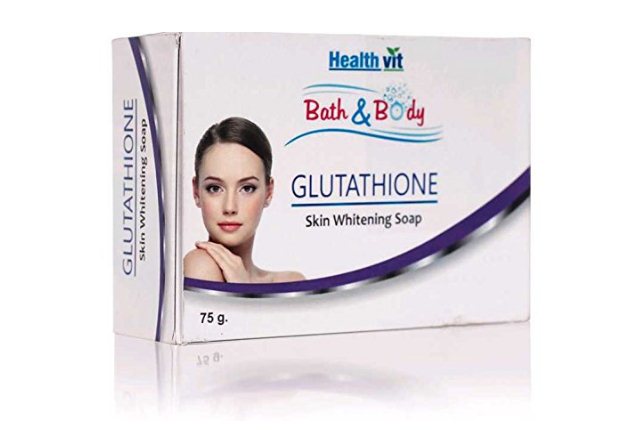 The above listed 5 whitening soaps make the skin whiter and brighter without drying or inflaming it. They gently exfoliate the dead cells without removing essential oils from the body.
Caution: Please use Home Remedies after Proper Research and Guidance. You accept that you are following any advice at your own risk and will properly research or consult healthcare professional.