Straight hair are the latest trend. They look classy and give a frizz free look. The hair texture improves and they become velvet smooth. But before you start making your perceptions about the expensive hair straightening techniques or visiting salons to get an expensive wet look, let us introduce you with hair straightening creams. Hair straightening creams are the best ways to get a frizz free wet look that can last for even a month, if you maintain and groom your hair properly. They straighten your hair without damaging them. To save your hard earned money, we bring forth our list of 13 simple steps, discussed in details, so that you can straighten your hair with straightening creams without much fuss, safely.
However, a word of caution before using a hair straightening cream at home is, choose a cream wisely. Always go for the cream that comes with a neutralizer and is devoid of ammonia. Having known this, you are set to go through the steps of using hair straightening creams at home.
1. Oil Your Hair A Night Before
While most people begin the process of applying straightening creams at home by shampooing, it should ideally be started a night before. Straightening creams, no matter being used at home, work on the concept of breaking the natural bond of hair strands. Brittle hair can actually get damaged if not properly prepared for using hair straightening creams. Thus, oiling your roots with a vitamin and mineral rich oil a night before using a straightening cream, strengthens the hair roots. You should ideally use warm oil and wrap a perforated and moist cotton cloth around your hair for about 30 minutes. This lets the vitamins and minerals penetrate within the follicles to make hair stronger. Comb your hair in the morning gently before you shampoo them.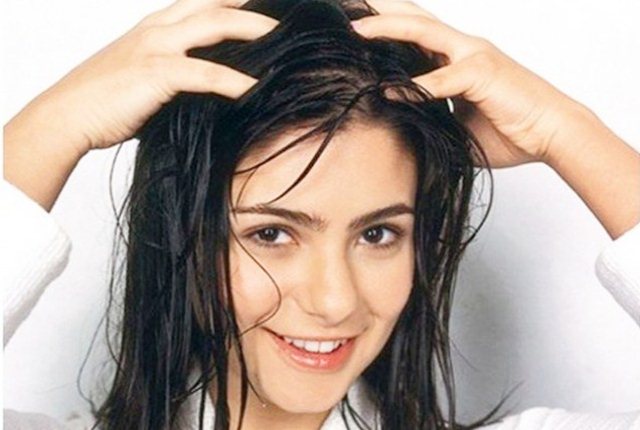 2. Shampoo Your Hair
The most basic step to get a perfect salon like straight look at home is cleansing your hair. Shampoo them to remove all dirt, dust, extra oil and sebum. You wouldn't want your scalp to get irritated while using hair straightening cream, since it can lead to hair fall and tangling. The easiest way is to shampoo your hair to remove extra oil and build up. The cleaner the hair, the better the straightening cream works. It is also important to use to a keratin based shampoo. It will work as an extra preventing barrier to save your hair from straightening heat that comes at a later stage. It will also help in smoothening the hair without disturbing the scalp's pH level.
3. Use A Deep Moisturizing Conditioner
Using a conditioner is an important step that when missed, keeps you an inch away from getting a salon like frizz free look. Remember, hair straightening creams can work best on hair that are less dry. Thus, using a deep moisturizing conditioner makes the hair moisturized and gives them a fuller look. Softer hair at much manageable. This consumes less time in straightening. Also, the smoother your hair are, the lesser will be the heat required to give them a glossy and seamless finish. A word of caution though, the shampoo and conditioner should be rinsed properly to completely remove all the residue.
4. Use A Hydrating Hair Mask
Most women complain that they do not get the desired straightening look by using straightening creams at home. Well, the creams aren't to blame in this case, as long as they are high quality products. Instead, missing this step is one of the main culprits. Do not rush through steps to straighten your hair. The hair need to be pampered in order to get a desired flawless finish. You do not have the facility to nurture your hair by using spa treatments at home. Thus, you need to put in some extra efforts in order to match the quality of professionals and their high end equipments. Hence, using a hydrating hair mask that is loaded with hair revitalizing minerals and vitamins is an amazing option to boost hair quality.
5. Neutralize Your Hair
Skipping this step can damage your hair that can lead to hair fall and split ends. It can also result in hair dryness and scalp itching. Hair neutralizer is an alkaline solution that protects hair from heat, chemicals and oxygen damage. It works as a barrier between hair damaging products and roots. It may turn out to be one factor in the durability of hair straightened with hair straightening creams at home. A neutralizer binds to hair follicles and reduce frizz by unlocking hair bond without irritating the scalp. It also makes the scalp ready for hair straightening creams that can otherwise cause scalp irritation, even when applied by mistake. This not just makes straightening simpler, it also makes it long lasting.
6. Dry Them Properly
Drying your hair is very important. You wouldn't want your straightening cream to run down while applying it. It needs to stick to hair strands in order to straighten them. Thus, let your hair dry naturally. Though some people recommend wrapping a towel on the head to keep hair moist, but wrapping hair in a towel is one of the biggest beauty flaw that does ruin hair texture. It makes hair brittle. Which is why, dermatologists all over the world advice to never wrap wet hair in a towel. Wet hair open every single hair strand. Such hair strands are susceptible to breakage even with mild pushing, pulling or rubbing. So, let your hair dry naturally. In order to make them moist so that the straightening cream glides easily, follow steaming method. This adds moisture to hair without damaging them.
7. Brush Your Hair Gently
There is a great difference between combing hair and brushing them. Combs have dense bristles as compared to a hair brush. Freshly washed hair are too brittle to be combed. The wider the brush bristles are, the lesser are the chances of hair breakage and knots. Thus, brush your hair in order to gently detangle the knots without breaking the hair. This also reduces the chances of last minutes waves. Brush your hair, without applying force, until all the knots are detangled. Always turn your hair upside down when brushing them. Brushing hair against their growth decreases the chances of follicle damage that reduces the chances of hair fall.
8. Apply The Straightening Cream
You should use a dense bristle brush in order to apply the straightening cream on hair. You ideally want to cover each hair strand with the cream separately to get a more than perfect straight look. Since it is impossible to hold every strand separately, use a dense brush instead. The more closely the bristles will be packed, the more strands will be covered with the cream individually. Ensure you apply the cream thoroughly and generously before your hair dry completely. Let the cream rest on your hair for 5 minutes. To give your hair an extra oomph, you can also mix colour in your straightening cream. It will give a streaky straight look to your hair that will look trendy and will be durable.
9. Wet Comb Your Hair
After leaving the hair untouched for 5 minutes, you have offered the cream enough time cover the hair strands. But you wouldn't ideally want the cream to harden and stick to the roots. Thus, dip a comb in warm water and glide it gently on the direction of hair growth from roots to tip. This keeps the cream as well as the hair moist. Repeat the process thrice in a gap of one minute. It also separates as much strands as possible from each other. Thus, the cream gets a better chance to cover hair strands more closely.
10. Section Your Hair
Section your hair in 6 parts. You can make more sections though. The more the sections are, the better are the chances of each strand getting covered with the cream. You can use soft clutches to hold each section separately. Apply more straightening cream on the hair against the growth of hair strands, i.e. turn your hair upside down. Comb the section after applying the cream. Repeat the same process with all the sections. Do not open the sections after this. Instead, wrap each section in a silver foil. Let it rest as it is for 10 to 20 minutes depending upon the hair type. For example, keep the hair wrapped for 20 minutes if they are curly, for 15 minutes if they are too wavy and frizzy, and ideally for 5 minutes if they are less damaged and less frizzy.
11. Unwrap Each Section And Blow Dry The Hair
Remove the foils and wet comb the hair strands in the direction of hair growth. While most people simply blow dry the hair soon after apply straightening cream, you must give the cream enough chance to soften your hair. Heat from the straightener activates the cream minerals and hair become soft and straight. Repeat the same process with all other sections. Once all the hair are opened after blow drying, comb them together.
12. Wash With Cold Water
Wash your hair properly with cold water. Do not turn your hair upside down while rinsing them. Ensure you gently keep rinsing them until all the cream is washed off from the strands and scalp. Once the cream is washed off properly, let the excess water dry. Once the hair are damp, blow dry them again.
13. Neutralize The Hair Again
Once you wash your straightened hair, apply the neutralizer again and let it rest on the hair without washing it for one complete night. This will enhance the glow and durability provided by the hair straightening cream.
After following all the above listed 13 steps, you are all set to flaunt your straight hair that look no less than salon straightened hair. The best way to make them last longer is washing them with a professional keratin rich shampoo and conditioner thrice a week. The best part of using hair straightening cream at home is not just that it saves money, it also keeps the hair straight for more than a month.
Caution: Please use Home Remedies after Proper Research and Guidance. You accept that you are following any advice at your own risk and will properly research or consult healthcare professional.