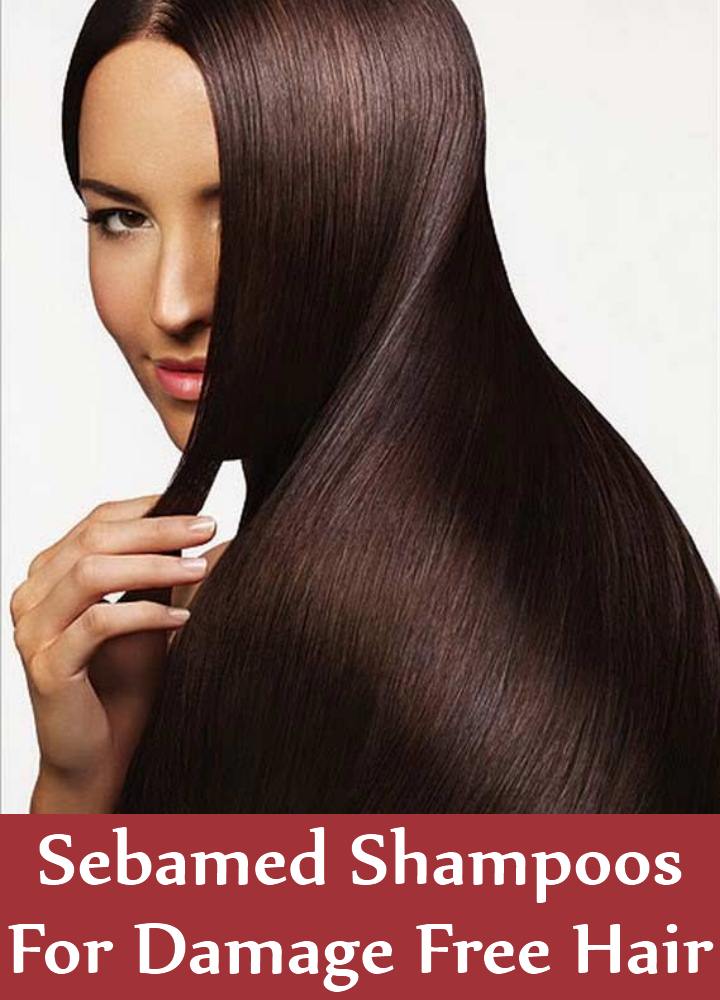 Sebamed is a renowned cosmetic brand that manufactures mild shampoos with 5.5 pH. Their shampoos cater to almost all hair problems ranging from hair fall to dandruff, dullness and premature hair graying. It also offers solution to sun damaged hair that are dull, breakable, frizzy, dry and coarse. Needless to say, they have their exclusive range of shampoos for women who like to swim often.
Explore The 7 Best Sebamed Shampoos With Us For Lustrous Hair That Are Bouncy And Damage Free:
1. Sebamed Everyday Shampoo, For All Hair Types And Sensitive Scalp
This dermatologically recommended and clinically tested shampoo is a suitable option for women with sensitive scalp. It causes no itching, inflammation, irritation or scalp acne bumps. It is devoid of soap and can be used daily to remove sebum, dirt and dust. It doesn't damage the hair texture and strengthens the keratin. It is non allergenic and non comedogenic. It has a soothing mild fragrance that lingers throughout the day.
2. Sebamed Anti Dandruff Shampoo, For Oily Dandruff Prone Scalp
This soap free shampoo by Sebamed deals with various problems caused due to oily scalp. It reduces sebum and dirt accumulation. It regulates oil formation and removes just extra oil. As a result, the scalp doesn't become dry. This opens the clogged pores and restores the scalp's pH level to 5.5. As a result, dandruff is removed that reduces hair fall too. It is loaded with the goodness of Piroctone Olamine that stops dandruff from recurring and makes hair frizz free.
3. Sebamed Scalp Activating Shampoo For Thinning Hair
This shampoo is loaded with the goodness of NHE, ginkgo biloba and caffeine. NHE and caffeine remove sebum and dirt that increases the blood circulation throughout the scalp. Increased blood circulation makes the shrunken dormant scalp cells plump and fresh. This results in the formation of new hair follicles. As a result, the hair become thick and bouncy. Also ginkgo biloba reduces hair tangling that reduces split ends and makes hair soft.
4. Sebamed Anti-hairloss Shampoo, For All Hair Types
Infused with natural extracts of caffeine, Niacin and ginkgo biloba, this shampoo reduces hair fall by increasing blood circulation in the scalp. It removes extra oil and sebum. However, it retains essential oils. Niacin reduces scalp irritation and itching. It also reduces sebum accumulation. This cleanses the scalp and makes the pores breathable. As a result, hair strands become stronger and dandruff free. Thus, hair fall stops by 90 percent. The resulting hair are lustrous and bouncy.
5. Sebamed Anti-Dry Revitalizing Shampoo
This is an ideal shampoo for women with dry and sun damaged hair. It makes hair soft by hydrating them. Increased water content makes the scalp cells plump. This shampoo also restores the scalp's pH to 5.5. As a result, scalp inflammation, itching and dandruff reduces. The magical blend of proteins and guar seed reduces split ends that improves the hair texture. And pea protein makes hair glossy and bouncy. The resulting hair are manageable and frizz free.
6. Sebamed Childrens' Shampoo
This is a super mild and ultra nourishing shampoo that not just suits toddlers, but is equally safe for infants. It is rich in milk cream that moisturizes the baby's scalp alongside cleansing it. It is devoid of soap and parabens. Thus, it causes no allergic reaction or scalp irritation. It is slightly fragrant and mild on eyes too. It can be used everyday.
7. Sebamed Repair Shampoo
This shampoo is infused with soothing and calming herbs that ease the traumatized scalp cells. It reverse the inflammation caused due to sun, pollution and colouring. It completely rehydrates the scalp that makes each hair strand strong and glossy. It contains biopolymers, hydrolyzed protein and PCA. Biopolymers and PCA moisturize the hair and reduce split ends. It improves the hair texture.
The above listed 7 Sebamed shampoos are reasonably priced and long lasting. They not just make hair thicker, bouncier and smooth, they also make them manageable so that you can experiment with different looks.
Caution: Please use Home Remedies after Proper Research and Guidance. You accept that you are following any advice at your own risk and will properly research or consult healthcare professional.