Are you not satisfied with the look you are getting on your face post makeup, despite you are using the best products available in the market? Does your makeup smudge or melt despite being gel based and waterproof? Do you have to run around for frequent touchups because your face looks cakey and your makeup breaks? If so, not necessarily your makeup is at fault. You might be getting it all wrong. Makeup can work as a look enhancer, but only if you have the art to apply it perfectly. To help you get your desired look, we have assembled this makeup guide that will cruise you through all the necessary makeup steps that will make your face flawless and radiant.
1. Make Your Face Makeup Ready
No primer or foundation will be able to deliver its maximum benefits, if your face is not makeup ready. The even the face will be, the better will the products glide. Thus, you need to wash your face and gently exfoliate it. This is in order to remove extra oil, dirt, blackheads and whiteheads. It will open the pores and thus, your makeup will neither crack nor will it result in a breakout.
2. Apply A Toner
After exfoliating the face, your pores will be enlarged. Thus, you must apply a toner or an astringent in order to reduce the size of those freshly exfoliated enlarged pores. If you skip this step, there can be chances that your makeup will crack and crease within hours of applying it. Needless to say, your entire face will look cakey and unnaturally ghost white. However, you need to keep one thing in mind: do not use an alcohol based or ammonia rich toner. Use a mild toner so that it causes no damage to your skin.
3. Moisturize Your Face
Moisturizing the face is not just a necessary daily beauty regime, it is an equally essential face makeup step. If your skin is undernourished, dry and dehydrated while applying the makeup, it might lead to rashes and itching. And dryness will sure soon crack the entire base and your makeup will flake and fall apart. You should go for a broad spectrum sunscreen moisturizer, if you're going on a beach party. Otherwise, a simple moisturizer is just fine for night parties.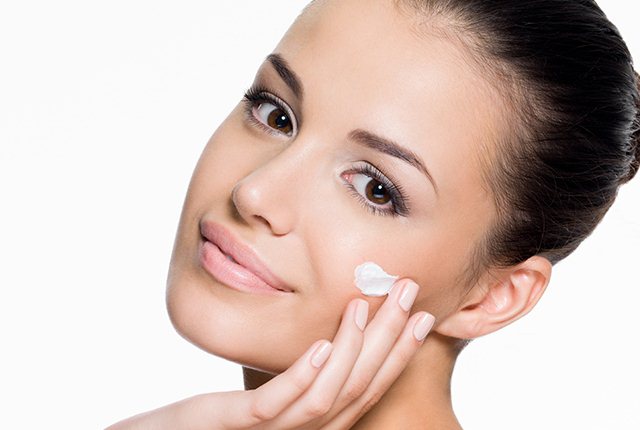 4. Use A Face Primer
This step is one key difference between perfect makeup and flaky makeup. A face primer makes your face well toned. It improves the skin's texture so much so that it feels like velvet when touched. It covers all the pores and freckles too. Thus, face primer is the actual base of face makeup, against the beliefs of many who think that foundation is a makeup's real base.
5. Use A Sketch Concealer
Using a sketch concealer is the best option. Avoid using the concealer on your entire face, unless the face is too blemished and has deep under eye dark circles. Never use an alcohol based concealer, especially if your skin is dry and sensitive. Once your blemishes are covered, gently dry brush your face with a clean makeup brush.
6. Use A Color Corrector
Foundation comes next to concealer, but only if your skin is not unnaturally red or pale to pale yellow. If this the case be, you need to apply a color corrector before you apply the foundation. A color corrector corrects your skin color and makes it much natural. Simply apply enough color corrector on your makeup brush and stroke it upward. Reapply if needed. However, your ideal option in this case should be a color corrector that works as a foundation too.
7. Use A Correct Foundation
Correct foundation is a synonym to many factors. A high quality foundation is a correct foundation. A shade that is just one tone lighter to your complexion is a correct foundation. And a type that blends well with your skin type is a correct foundation. Which means, use a waterproof gel based foundation if your skin is oily. And use a water based foundation if your skin is dry. Having chosen the shade and type, seamless application is what comes next.
Remember, using a brush to apply a foundation is the best trick. Gentle upward swatches give an opaque coverage that looks consistent. If you're using the foundation in a conventional style, make sure you apply small foundation dots all over your face. Slowly massage those dots with your pinky and ring finger in a circular motion. Continue until your entire face is covered. If it looks inconsistent, use a blotting paper to remove the extra bit of foundation. And apply a liquid foundation with a brush on top of it. In case you do, don't forget to use a loose powder in order to set your liquid foundation. In either case, using a correct shade compact powder is eminent to set the foundation right.
8. Use A Bronzer
Unhappy with your face cut? Bronzer is your only rescue other than a cosmetic surgery. It is basically a contouring cosmetic item that can give your face a desired shape. You can use it on your forehead, cheekbones, cupid's bow, t zone and even under your jawline. What matters is the cut you would want your face to have. For example, you can apply the bronzer on your t zone if you want to give your nose a slimmer and sharper appearance.
9. Use A Blush
Using a blush properly is much more than simply stroking it on your cheeks. You need to be very precise with its application according to your face type. Women with longer face must apply the blush from the center of the cheek bone, stretching it all along to the ears. It adds width to the face. Thus, the face looks less longer. Women with a round face should apply the blush from the center of the cheekbone and stretch it midlength towards the eyes. This makes the face look much slimmer.
10. Use A Highlighter Or An Illuminator
Well, the use of a highlighter is pretty much similar to the use of an illuminator. It adds shine and glow to the face. However, professionals prefer using a highlighter when they need the focus on one specific part. Thus, a highlighter brings out the beauty of desired areas only. While an illuminator is used to add equal glow and shine throughout the face. For example, you can use a highlighter to enhance the beauty of your eyes by making up for the hollowness left behind by an unusually lifted cheekbone. Fill the skin under your eyes with a highlighter and blend it with the bronzer and blush. The eyes will illuminate and the focus will shift from your unusually lifted cheekbone.
On the contrary, the best way to use an illuminator is using it over the primer and topping it up with the foundation and so on. Thus, when light falls on your face, the face shows equal radiance, rather than focusing on one single feature.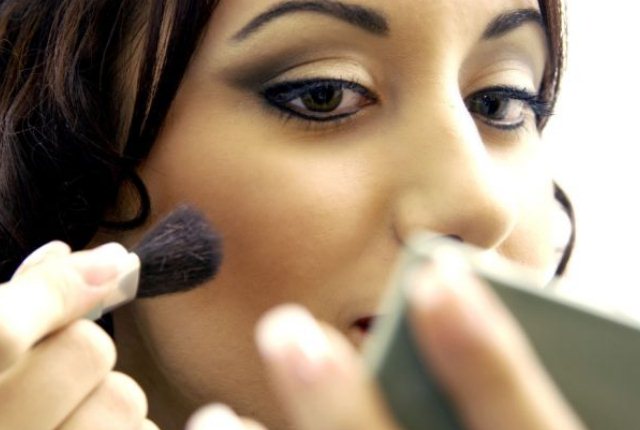 11. Dry Brush The Face And Use Makeup Setting Spray
Use a clean broad brush with very dense but gentle bristles. Simply swatch it all around your face. This will remove extra makeup and will also blend the bronzer, highlighter and blush. Use a non alcoholic makeup spray to increase the durability of your makeup.
After following the above listed 11 makeup tricks step by step, you will be party ready. Your makeup will look natural and will neither smudge nor break.
Caution: Please use Home Remedies after Proper Research and Guidance. You accept that you are following any advice at your own risk and will properly research or consult healthcare professional.