Flawless and glowing skin is a perpetual phenomenon. It does not happen overnight. While we groom our skin to attain that perfect look, we can use little makeup hacks to cover up the remaining skin issues. In fact, even the best of skins are prone to minor blemishes with aging, pollution and other factors. What stays our true friend that covers up all our imperfections is a foundation. However, it is altogether another task to find a perfect foundation that complements our skin tone as well as gives up complete coverage. Most women end up disliking foundations even from the best of brands. The reason is not that the products are worthless. The reason most of the times is, women end up picking a wrong shade that doesn't complement their undertone. To solve all these daily foundation related issues, we bring forth our list of 10 best high coverage foundations you will absolutely fall in love with.
1. Lakme Perfecting Liquid Foundation
This foundation is a sheer blessing for women with oily and combination skin. It comes in 4 different shades. Lakme Perfecting Liquid foundation is rich in Vitamin E, and is completely oil free. It is water resistant as well. Vitamin E nourishes the skin making it baby soft. It also makes the skin radiant and glowing. This foundation has a high coverage capacity that lasts for as long as 6 hours, when used with a complementing compact. It even covers dark circles and fine lines. It feels feather soft on skin, and has been in the market for as long as 15 years now. Not just that you get an even skin tone that looks radiant and flawless, it also improves your complexion making it one shade fairer. It blends easily with the skin and doesn't leave behind a greasy feeling. Your skin doesn't look ghost white or yellowish with the application of this foundation. It can work well as a makeup base too.
Price: 1.83 dollar per 27 ml bottle
2. Maybelline New York Dream Satin Skin Foundation
Well, the name says it all. It makes the skin as even, radiant, and soft as satin is. This is a non comedogenic skin care product that is best suited for sensitive skin. Needless to say, if it suits sensitive skin, it is most likely to suit all other skin types. Since it is non comedogenic product, it never clogs the skin pores. Result? It will never break you out. It will always leave the skin radiant and fresh. Its unique oil free formula is fragrance free as well. So, those of you who like fragrance free foundations, this is the best deal for you. It offers a sheer high coverage against dark acne spots, sun spots, fine lines, wrinkles and active acne as well. You need a few drops of Maybelline Dream Satin Skin foundation for covering all your blemishes and freckles. Coming from the house of Maybelline, it comes in a variety of shades. You have 8 different options to choose from. The shades stay true to Indian skin tone. You will always find the one that will be your perfect match.
Price: 22.90 dollar per 30 ml bottle
3. L'Oreal Paris Infallible Pro-Matte 24Hr Liquid foundation
This is one of the best foundations available in the market. It is majorly because of the fact that L'Oreal Paris Infallible 24Hr Liquid foundation is suitable for all skin types. It comes in 13 different shades. You will always find the one that will seamlessly blend with your skin, making it upto 2 shades lighter. This foundation's amazing liquid based formula offers a hundred percent coverage against acne spots and sun spots. You can wear it under your makeup without giving in much thoughts. It is exceptionally long lasting and can stay fresh for one entire day. No wonder, you don't need frequent touch ups when you use it as your makeup's base. Moreover, this liquid foundation also hydrates the skin cells. So, unlike some other high priced foundations that may leave your skin dry, this one will actually hydrate your skin, making it softer and healthier.
Price: 12.99 dollar per 1 fl. oz. Tube
4 . e.l.f. Cosmetics Flawless Finish Foundation, SPA 15
This underdog foundation might just steal your heart from its first use itself. Its creamy texture is completely oil free. Your skin will look and feel as soft as velvet and as light as cotton. It is a high coverage foundation that will conceal all your blemishes, ranging from active acne to acne spots, sun spots, pigmentation, cracks, blotches, dark circles, fine lines and wrinkles, giving you a semi matte finish.. It works wonders even in hot and humid factor. The best is, it comes with SPF 15. Thus, it protects your skin from sun as well. Thus, it protects the skin from tanning and also works as an anti aging foundation. It stays true to your complexion, since it comes in 6 different shades.
Price: 6 dollar per 0.68 ounce bottle
5. L'Oreal Paris True Match Minerals Foundation
L'Oreal is a leading international brand that comes up with skin care products catering to the needs of all women. The True Match Minerals foundation comes with a brush for even application. It is one of the highest rated foundations globally, since it is filled with the goodness of skin boosting minerals. It is an oil free foundation that offers medium to high coverage. It will seamlessly blend with your skin, covering all your blemishes with a single swatch. However, you can apply another layer on top of the already adsorbed layer. This will give you a complete coverage if you have stubborn acne marks and dark circles. This ultimate true match foundation comes in unbelievable 12 shades. The best feature that makes this foundation a show stealer is, it works as a sunscreen too. Its SPF 19 protects the skin against sun damage, reversing any signs of early skin aging.
Price: 15.25 dollar per 10 gram bottle.
6. Lotus Herbals Purestay Nourishing foundation
Lotus Herbals Purestay Nourishing foundation is a keeper. This foundation is rich in minerals and is completely oil free. It lasts for over 10 hours and does not crack at all. It is one of those rare blessings that detoxify the skin. Its hydrating formula also reduces the formation of free radicals. Thus, it not just offers a complete coverage from fine lines and wrinkles, it delays aging too. It comes in 4 different shades making it easier for you to pick the one that resembles your complexion. Blending one or two shades to make an even better match isn't a bad idea at all. This foundation is fragrance free, parabens free, oil free and preservative free. Its SPF 20 protects the skin against sun damage. It will keep up its matte finish even under sun or when exposed to humid and moist weather. It cleanses the skin pores.
Price: 46.92 dollar per 30 ml bottle
7. Rimmel Lasting Finish Foundation
This hydrating foundation offers medium to full coverage to dry skin. The Rimmel Lasting Finish Foundation glides easily on the skin, concealing all the imperfections completely. All you need is a pea size drop of this foundation. It is lightweight and comes with a unique no transfer formula. It has amazing smoothening effects on dry skin too. The skin becomes hydrated, moisturized and youthful with perpetual usage of this foundation. It works against humidity, heat and moisture and lasts upto 25 hours. It has 7 different shades to choose from. Be assured, you will get a perfect one matching your undertone and complexion. If you don't, make one for yourself by blending different shades to one.
Price: 7.99 dollar per 1 fluid ounce bottle
8. Long-wear Even Finish Foundation By Bobbi Brown
Bobbi Brown is one of the most high rated brands that has a reputation of producing high quality skin care products. The same stands true for the Long-wear Even Finish foundation. This is an ultimate high coverage foundation that blends in the skin exceptionally well. It also covers active pimples, and not just pimple marks. The skin looks unbelievably radiant, glowing, fairer and flawless. It can last for as long as 15 hours. You don't need frequent touch ups when you use this one as your makeup base. It is neither greasy, nor cakey. Its SPF 15 keeps your skin safe from UVA and UVB sunrays. This hydrating foundation is completely oil free. It works best for all skin types. It comes in 20 different shades. Different shades complement different undertones. Once you know what your true undertone is, it will become very easy for you to pick a foundation that will feel like your own skin's twin.
Price: 50 dollar per 30 ml bottle
9. Naked Skin Ultra definition Liquid Makeup by Urban Decay.
The Naked Skin Ultra definition Liquid Makeup by Urban Decay is unbelievably weightless. This liquid foundation is a perfect option to get that celebrity skin you always craved for. It is rich in Matrixyl 3000. Matrixyl 3000 reduces fine lines and wrinkles. It is an absolute boon for women with all skin types. This giant pro foundation also repairs the skin, alongside offering full coverage against all skin imperfections. It comes in a range of 24 different shades. You can also use this foundation on your elbows and knees.
Price: 40 dollar per 30 ml bottle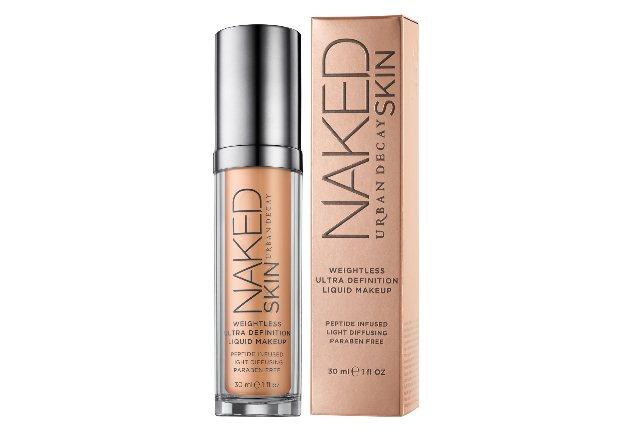 10. Studio Sculpt SPF 15 foundation by MAC
It is a no brainer that MAC is the best brand when it comes to cosmetic and skin care products. Say goodbye to all those ugly blemishes that used to bring down your confidence with the application of Studio Sculpt foundation. This gel based foundation is best suited for people with oily and combination skin. It is highly pigmented. Hence, it gives a full coverage. A pea size drop can instantly cover acne spots, pimples, sun spots, dark circles, fine lines and wrinkles. It is absolutely lightweight, and can last for more than 10 hours. It is water resistant. Hence, it works wonders even in humid and moist conditions. If you have a deeply discoloured skin that is oily and full of acne, you will thank MAC for this foundation. It will completely cover pigmentation and discoloration, making your skin even and toned. Its SPF 15 will also work as a sun shield.
Price: 45.43 per 40 ml bottle
Try any of the above listed foundations according to your skin type. You will end up having that matte complexion you always dreamed of.
Caution: Please use Home Remedies after Proper Research and Guidance. You accept that you are following any advice at your own risk and will properly research or consult healthcare professional.