The first step to a blemish free radiant skin is cleansing. You cannot depend on facials for everyday skin care. Skin collects a lot of dust, smoke and dirt when exposed to pollution and sun. Sweating is another major reason that leads to skin dullness. Sometimes women end up using soaps to wash their face. This also makes the skin dull, since soaps contain harsh chemicals that further damage the already unkempt skin. The basic step to everyday skin cleansing is using a mild face wash suitable for your skin type. There are numerous brands available in the market. You can also opt for a face wash targeting a specific skin problem. But to choose a face wash that is best for your skin is altogether a different task. To resolve this query, we bring forth our list of 24 best face washes that will help you in getting the desired glow.
1. Himalaya Neem Face Wash
Himalaya Neem Face wash is suitable for all skin types. It deals with specific skin problems like acne marks, active pimples, itching, dryness, redness and inflammation. This herbal face wash is hundred percent soap free. Hence, it doesn't dry the skin at all. It is also rich in turmeric. Turmeric contains curcumin. And curcumin is an amazing antifungal and antibacterial agent. This face wash also heals the cuts caused due to skin scratching. It further reduces the risk of any future breakouts.
Price: 5.69 dollar per 150 ml bottle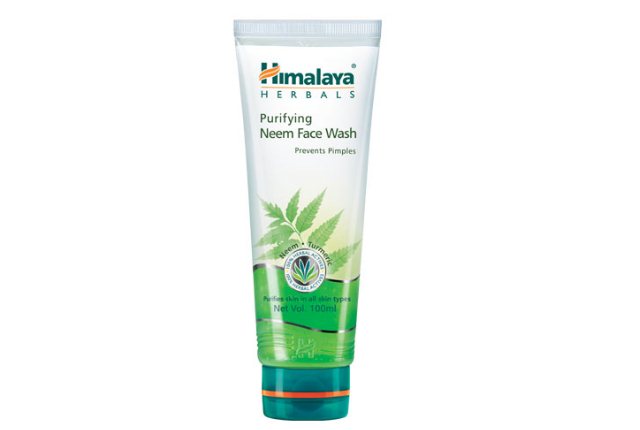 2. Neutrogena Deep Clean Foaming Cleanser
This face wash is an ideal choice for women with oily and combination skin. It removes dead skin cells, making the skin radiant and glowing. It targets the everyday dirt and sweat. It also effectively cleanses the pores against sebum, and is very gentle on the skin. The end result is a skin that looks fresh and doesn't have that ugly unnatural glare.
Price: 14 dollar per 100 gram tube
3. Perfect Radiance Face Wash By Lakme Absolute
This creamy face wash is a skin lightening product that makes the skin fair. It is rich in intense skin nourishing vitamins that make the skin smooth and soft. It removes acne marks and sun spots, making the skin even toned. It also reduces tanning caused due to sun exposure. It reduces pigmentation and controls oil formation in the skin. This keeps the skin pores clean throughout the day. In other words, this face wash removes dullness and restores the skin's natural complexion. Since the skin becomes flawless, it looks fairer and healthier.
Price: 7.44 per 50 gram tube
4. Himalaya Fairness Kesar Face Wash
This soap free face wash is loathed with the goodness of Kesar. Kesar (saffron) is an ancient herb that lightens complexion by reducing tanning and blemishes. The Himalaya Fairness Kesar Face Wash is also rich in mint, cucumber and pomegranate. Cucumber hydrates the skin. It restores the skin's pH level to neutral. Pomegranate increases blood circulation making the skin radiant, soft and glowing. And mint leaves a cooling effect on the skin, reducing inflammation.
Price: 9.10 dollar per 100 ml tube
5. Clean And Clear Natural Bright Face Wash
This gentle face wash helps young teenage girls suffering from acne, dullness and pigmentation. It is rich in rose water, glycerin and honey. Rose water cleanses all the dirt from the skin, opening its pores. This controls acne breakout. Glycerin and honey moisturize the skin making it smoother. Thus, this face wash brightens the skin, improving its overall tone and complexion.
Price: 10.50 dollar per 100 ml bottle
6. Neem Tulsi Face Wash By Patanjali
This herbal face wash is suitable for all skin types. It is devoid of soap and other harmful chemicals. It contains Neem and Tulsi that are ancient Indian herbs. Both these herbs remove acne causing bacteria from the skin. It not just controls active acne breakout, but also reduces the risk of future breakouts. This face wash is also rich in aloe vera and honey. Aloe vera hydrates the dry skin, removing freckles and cracks. And honey restores the essential oils in skin, making it radiant and soft.
Price: 4.99 dollar per 60 gram tube
7. CeraVe Foaming Facial Cleanser
The CeraVe Foaming facial Cleanser face wash is a hydrating face wash that removes oil, dirt, sebum, blackheads and whiteheads. It is rich in hyaluronic acid that removes extra shine and oil from the skin. It doesn't dry the skin at all. It makes the skin tighter, reversing the signs of early aging to an extent. It keeps the skin cells hydrated and gives you a fairer complexion.
Price: 8.54 dollar per 12 ounce bottle
8. Perfect Skin 30+ Face Wash By L'oreal Paris
This is an anti aging face wash that works best when you start using it in your early thirties. It delays skin aging by increasing collagen formation. Collagen is a skin tightening protein naturally found in humans. Thus, this face wash reverses all the signs of premature skin aging. It makes the skin tighter and removes all the fine lines and wrinkles. It is rich in Vitamin B3, C and E. All these vitamins make the skin younger, fairer, radiant and blemish free.
Price: 7.80 dollar per 50 gram tube
9. Wild Turmeric Face Wash By VLCC
The Wild Turmeric Face Wash is rich in turmeric and honey. Turmeric is a proven ancient herb that has antibacterial and anti-inflammatory properties. It also works as an antiseptic. This face wash is suitable for all skin types. It removes acne marks and active pimples. It also lightens the complexion by gently removing all dirt and sebum from the face. Honey boosts the hydration level of dry skin, uplifting dullness and making it radiant.
Price: 8.04 dollar per 100 ml tube
10. Pond's Pure White Anti Pollution Face Wash
The Pond's Pure White Anti Pollution Face Wash is a strong skin lightening agent that is suitable for all skin types. It repairs the skin against pollution damage that includes dullness, oil, acne, fine lines, wrinkles and dark spots. When the skin is exposed to pollution and smoke, it increases the formation of free radicals. When free radicals combine with oxygen, they result in skin aging. The Pond's Pure White Anti Pollution Face Wash reduces pollution damage. Hence, it is not just a skin lightening face wash, it also works as an anti aging product.
Price: 7.25 dollar per 100 gram tube
11. Cetaphil Gentle Skin Cleanser
This is a mild dermatologically tested face wash that cleanses all the dirt from skin. It is a medicated skin cleanser that is suitable for dry, sensitive and damaged skin. It also works well with normal skin. You can easily find another cleanser in the same range for oily skin as well. The Cetaphil Gentle Skin Cleanser increases the hydration level of skin cells, and makes the skin oil free and controls dryness.
Price: 7.99 dollar per 8 fluid ounce bottle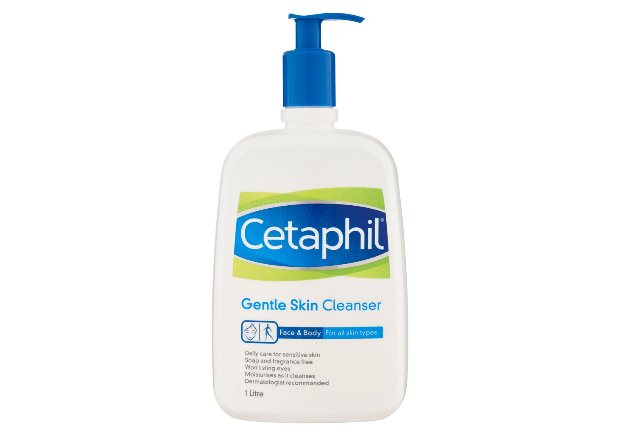 12. Tea Tree Skin Cleansing Facial Wash by Body Shop
This herbal face wash is enriched with the goodness of tea tree oil. Tea tree oil has proven medicinal skin benefits. It detoxifies the skin by removing free radicals. It kills acne causing bacteria and also reduces blemishes and freckles. It effectively reduces fine line, pigmentation and discoloration. Thus, this face wash is also a fairness face wash. It is suitable for dry as well as oily skin, since it optimizes oil formation. It doesn't dry the skin, and at the same time it removes extra oil, sebum and dirt.
Price: 11.40 dollar per 8.4 fl. Oz. bottle
13. Essential Herbs Ayurvedic Face Wash By Medimix
This herbal face wash contains aloe vera, turmeric and neem. Turmeric makes this face wash an ideal choice for women suffering from skin inflammation and rashes. Neem doubles the acne preventing and inflammation reducing capacity of this face wash. Combined, these two ingredients prevent future acne. Turmeric also makes this face wash a fairness agent that lightens dark spots, pigmentation and tanning. And aloe vera keeps the skin smooth and hydrated throughout the day. Thus, this is an all in one face wash that is suitable for all skin types.
Price: 19.95 dollar per 50 ml tube
14. White Tea And Chamomile Face Wash By Aroma Magic
Aroma magic therapeutic brand has been in the indian market since 1992. This brand was launched by Doctor Blossom Kochhar. All the Aroma Magic products are dermatologically tested, including the White tea and Chamomile Face Wash. It is rich in various aromatherapy oils and natural white tea and chamomile extracts. All these ingredients make this face wash a strong cleansing agent. It also removes blackheads and whiteheads, since it contains fine scrub granules. It is rich in soy milk that efficiently controls oil and sebum formation, making the skin bright and flawless.
Price: 7.04 dollar per 100 ml tube
15. Detox With Activated Charcoal All Natural Detoxifying Facial Wash
This wash makes the skin radiant and glossy. It works well on all skin types. It contains green tea natural extracts, activated charcoal, natural aloe vera extracts, rooibos natural extracts, organic coconut oil, vitamin C, vitamin B5 and organic orange peel extracts. Green tea, that is rich in antioxidants, increases collagen formation and reduces free radicals. Thus, it makes the skin youthful. This face wash is paraben free as well. It detoxifies the skin pores against dirt, sebum, bacteria and extra oil. Vitamins, aloe vera, rooibos and coconut oil hydrate the skin and keeps it soft. This face wash is anti fungal, anti bacterial and anti inflammatory. Thus, it removes acne, acne spots, redness, rashes, itching and freckles.
Price: 35 dollar per 177 ml bottle
16. Pacifica Beauty Sea Foam Complete Natural Face Wash
This amazing face wash has deep sea minerals, antioxidants and coconut oil. It is sulfate free and makes the skin fairer. It has amazing mild exfoliating property and it gently cleanses the skin. It is suitable for all skin types.
Price: 10 dollar for 5 fluid ounce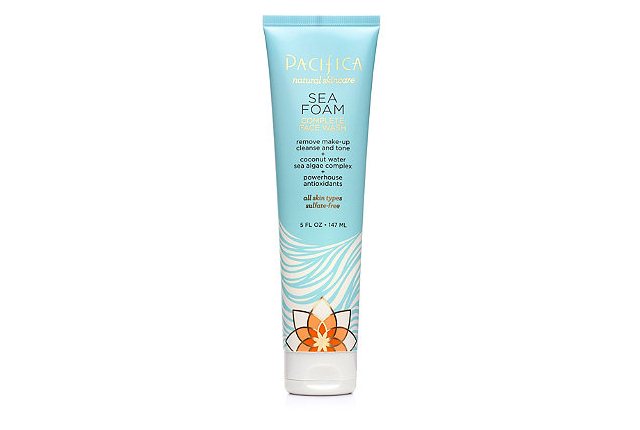 Include any of the above listed face washes in your daily skin care routine to maintain your skin's health.
Caution: Please use Home Remedies after Proper Research and Guidance. You accept that you are following any advice at your own risk and will properly research or consult healthcare professional.