Today, you will be knowing the uses of eggs based on its properties. There are given 6 masks using eggs and other ingredients. These ingredients comes with different properties and together make the mask even more potent. Just read more on how you can prepare these mask, and how these masks help in making skin rich and beautiful. Do share if you have any other egg recipe in mind.
Top 6 Skin Tightening Masks Using Eggs:
1. Egg White Face Mask
Using only egg white on face is helpful in improving the blood circulation on the skin and tightening the skin. You can use it if you are concerned about the loose skin and the early signs of ageing. To apply this mask on your face, wash your face first. Break one egg and apply its white portion on your face. Keep it applied for about 10-15 minutes. Let it get air dry before your finally decide to rinse it off. You can use lukewarm water giving few final splashes of cold water.
2. Egg White, Gram Flour And Lemon Juice
To form this face mask, you need lemon juice that with its citric properties helps in making the skin light and mark free, egg white that helps in increasing the collagen production and making skin free of ageing signs and gram flour that enhances the skin tightening properties of egg white and also makes the skin supple. Into some gram flour, add 4 teaspoon of egg white and juice from half the lemon. Mix the three ingredients well and apply all over your face till neck. Wait till it gets naturally dry or probably for 20 minutes. Also, remember not to apply under the eye region. You can wash off when it is time.
3. Egg White And Fuller's Earth Face Mask
In this recipe, fuller's earth plays the role of making skin bright while egg white gives you tight skin with no other harsh effects. You can add little amount of honey as well if you don't want dry skin afterwards. If not, you can apply a good moisturizing cream afterwards. In one teaspoon of fuller's earth, add about 3-4 teaspoon of egg white. Whisk the two ingredients and apply all over your face till neck. Keep applied for about 10 minutes. Finally you can wash it off with the help of lukewarm water. Do apply a mild moisturizing cream afterwards so as to prevent your skin from getting drier.
4. Egg White And Lemon Face Mask
This recipe is used not only to make the skin tight by increasing the collagen production but also for making the skin free from scars and other marks that are caused from the frequent appearance of acne and pimples. If you go with this remedy, make sure that you apply it not more than twice every week. To form this face mask, you need to break one egg into a bowl. To the egg white, squeeze half or one full lemon. Mix the two ingredients properly and then test on a small patch of skin, if it feels irritated to the skin, add some honey. Now mix once again and apply all over your face. Do wait for some 20 minutes or more and then you can rinse thoroughly with lukewarm water. Not only the skin will be free of scars or marks but also become glowing in few months or perhaps weeks.
5. Egg White And Honey
In this recipe, egg white helps in increasing the production of collagen on the areas where the signs of ageing dominates thus giving you a natural Botox while honey is used to add the moisturizing qualities in the mask. You can always use this mask if you want to look pretty at not much cost. In one teaspoon of natural honey, add one egg white. Beat the two to mix well and then apply all over your face till neck. Be careful about not applying the mask under your eyes as it can cause eye bags. Let the mask stay for no more than 10 minutes on your skin. After it dries, wash off with lukewarm water.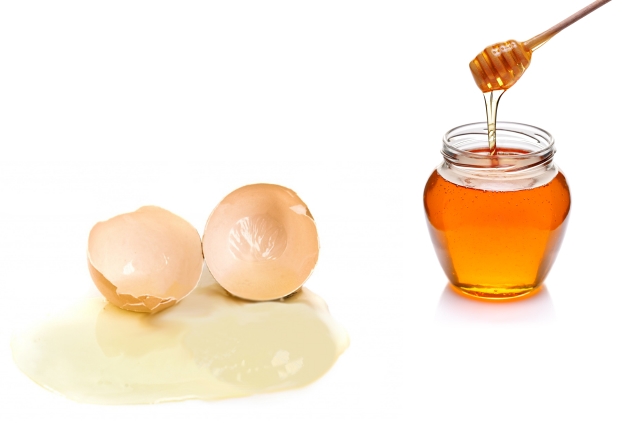 6. Egg White, Milk And Carrot
This recipe has the power to three potent ingredients: carrot that is used for making skin calm and soothing, milk that helps in exfoliating the skin and egg white that gives you a new tight skin. You can any day trust this remedy for its wonderful results. To form this face mask, break one egg for its white portion first. Into the white, add 2 teaspoon of blended carrot and 2 teaspoon of milk. Mix the three ingredients and apply all over your face till neck. Keep applied for about 10 to 20 minutes. When the mixture gets dried, wash off with lukewarm water. Go ahead with a mild moisturizing cream afterwards.
Caution: Please use Home Remedies after Proper Research and Guidance. You accept that you are following any advice at your own risk and will properly research or consult healthcare professional.